This Cowboy Casserole is an insanely good dinner to make all year. It's a savory and flavorful mix of ground beef, tater tots, frozen corn, canned diced tomatoes, sour cream, cheese, chili, cumin, and salt and pepper. It drove my family crazy from the moment served at weekend dinner. Its recipe is introduced here, just give it a go if you have an appetite. Enjoy!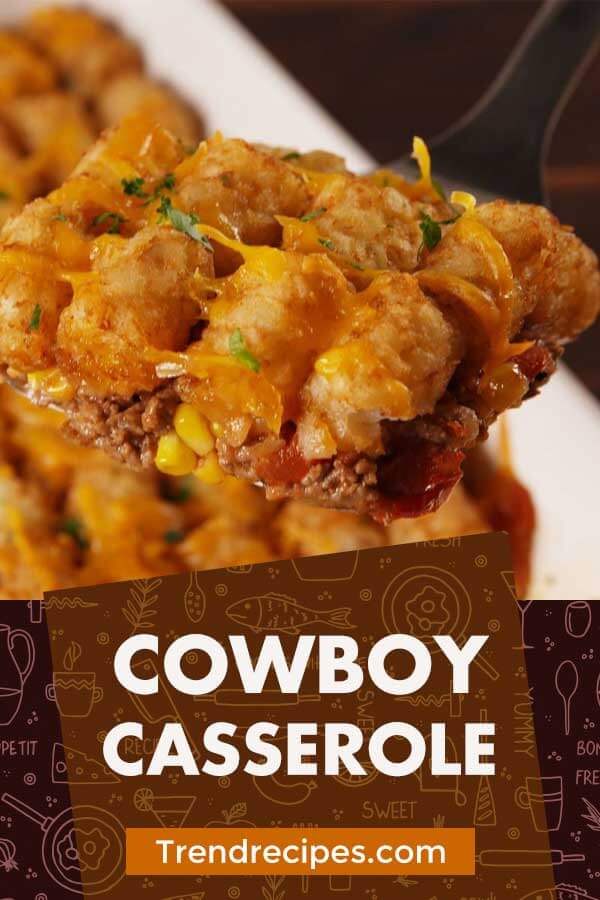 Cowboy Casserole
Course: Dinner
Cuisine: American
Difficulty: Medium
If you are finding something good to make with ground beef, this cowboy casserole is right up your street.
Ingredients
1 lb. ground beef

2 bags (16 oz) frozen tater tots

2 c. frozen corn, defrosted

2 c. canned diced tomatoes

1/3 c. sour cream

1 1/2 c. cheese, divided

1/2 onion, chopped

2 garlic cloves, minced

1/2 tsp. chili powder

1/2 tsp. cumin

kosher salt

Freshly ground black pepper

1 tbsp. Chopped parsley, for garnish
Directions
Preheat oven to 375°F.
Heat oil in a large skillet over medium heat. Add onions and cook until soft and slightly translucent.
Add beef, breaking up often, until no longer pink. Drain some of the fat and push mixture to outer edge of skillet.
Add, garlic, chili powder and cumin. Stir and cook until garlic is fragrant, about 2 minutes.
Stir in corn, tomatoes, sour cream and 1 cup cheese. Cook, stirring regularly, until cheese is melted and sour cream is incorporated. Season with salt and pepper.
Pour mixture into a 9×13 baking dish. Top with tater tots and sprinkle with remaining cheese.
Bake for 20-25 minutes, or until cheese is melted and tater tots are golden. Garnish with parsley. Serve immediately!
Recipe Video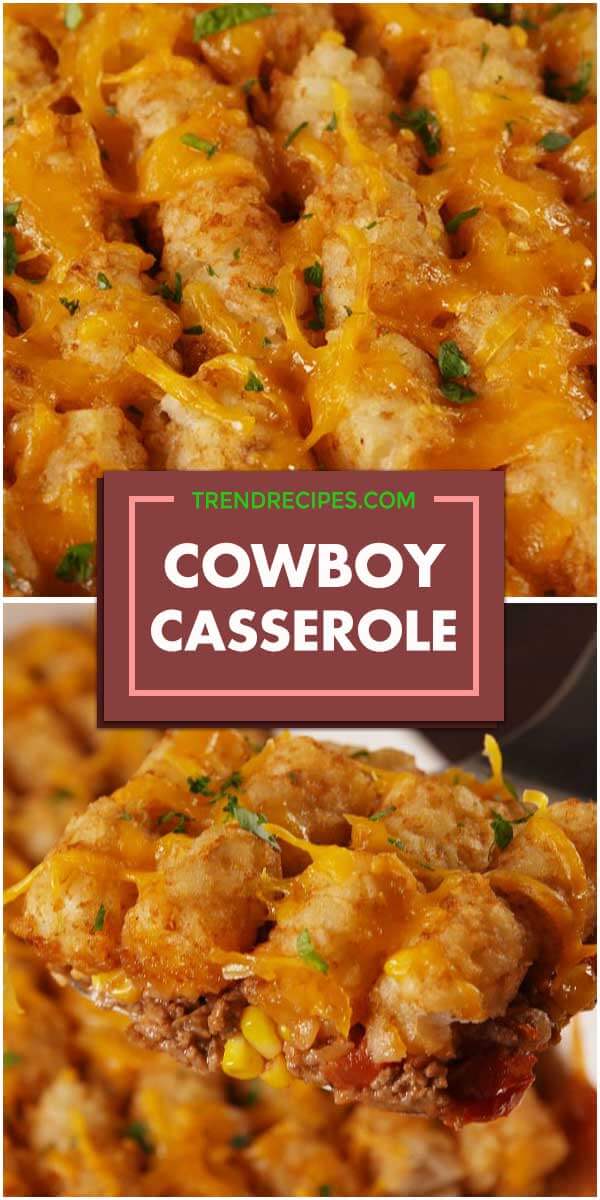 Source:https://www.delish.com/cooking/recipe-ideas/recipes/a55802/cowboy-casserole-recipe/