Zesty Mediterranean Quinoa Salad
Looking for a healthy and delicious salad? Look no further. This Zesty Mediterranean Quinoa Salad is the way to go. It's a flavorful and nutritious mix of quinoa, chopped cucumbers, halved cherry tomatoes, chopped red onion, chopped avocado, crumbled feta, freshly chopped parsley. The salad is finished with generous drizzles of a flavorful homemade dressing. Who can resist it? I know that I can't.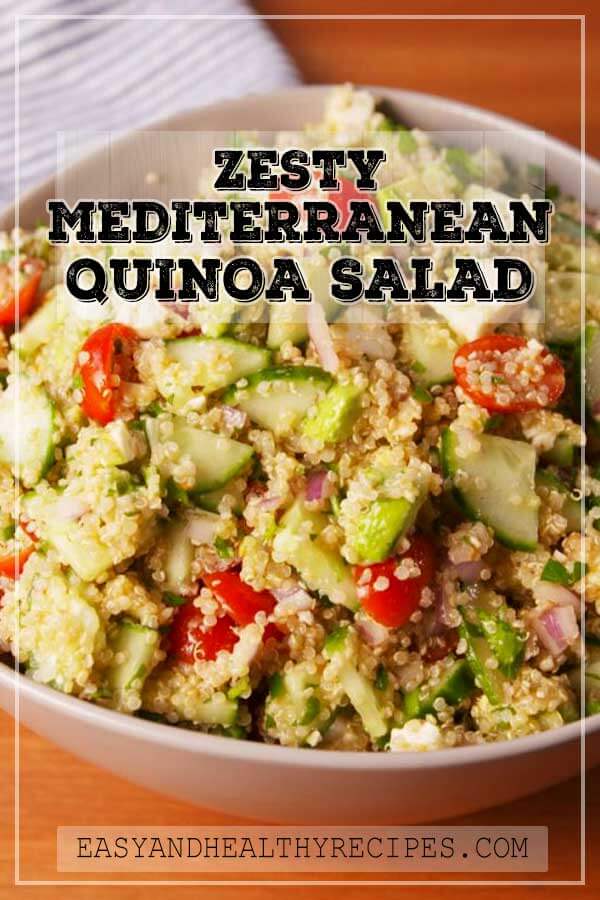 Zesty Mediterranean Quinoa Salad
Course: Dinner, Lunch, Salads
Cuisine: Mediterranean
Difficulty: Easy
If you prefer quinoa for today's meal, you should give this zesty Mediterranean quinoa salad a try. It gets my family hooked from the moment it's served.
Ingredients
FOR THE SALAD

3 c. cooked quinoa

1/2 c. crumbled feta

1 pt. cherry tomatoes, halved

1/2 red onion, finely chopped

1/2 avocado, chopped

2 medium cucumbers, chopped

2 tbsp. freshly chopped parsley, plus more for garnish

FOR THE DRESSING

1/4 c. red wine vinegar

1 tsp. honey

1/3 c. extra-virgin olive oil

1 clove garlic, minced

1 tsp. oregano

kosher salt

1/2 tsp. crushed red pepper flakes
Directions
Add quinoa, cucumber, tomatoes, onion, avocado, feta and parsley to a large bowl. Stir to combine.
To make dressing, combine olive oil, vinegar, honey and garlic on a medium bowl. Season with salt, red pepper flakes and oregano and whisk until combined.
Pour dressing over salad mixture and toss until completely coated.
Garnish with more parsley. Serve.
Recipe Video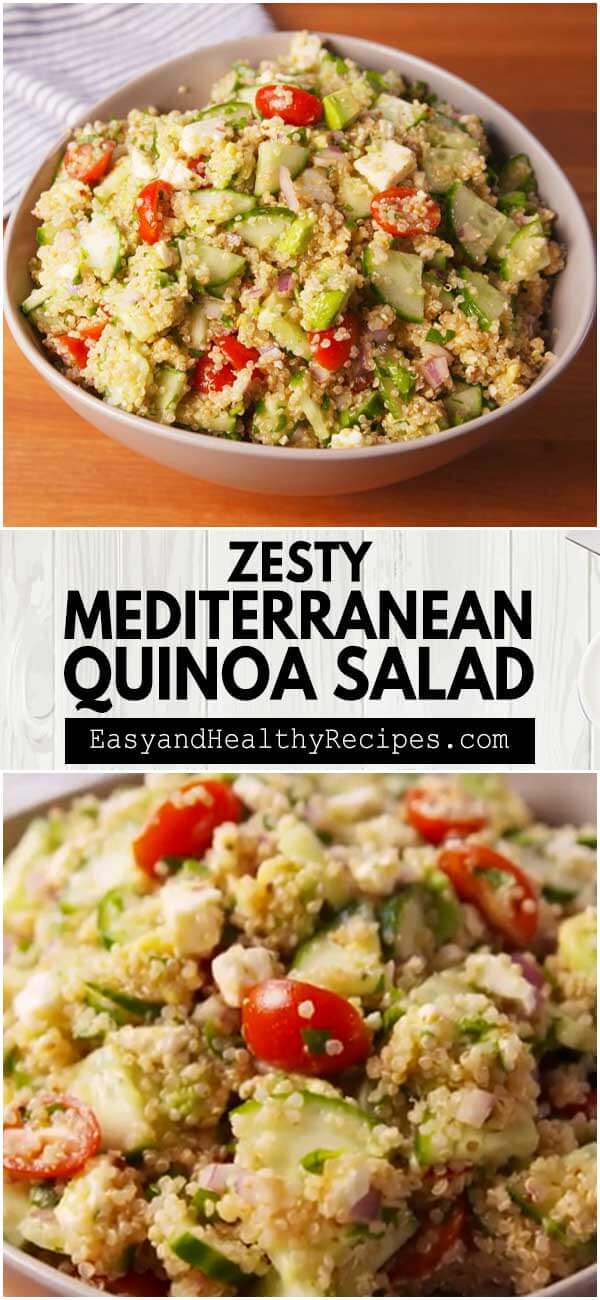 Source: https://www.delish.com/cooking/recipe-ideas/recipes/a53267/zesty-mediterranean-quinoa-salad-recipe/