Apple Cider Glazed Chicken
Taking your obsession with chicken to the next level with this Apple Cider Glazed Chicken. Packed with flavors and look super impressive, this chicken is perfect for any occasion, both family dinner and small parties. Weekend is coming, I'm making this for dinner. Serving it over a bed of rice, creamy pasta or steamed or roasted vegetables, we have a delicious meal. So good!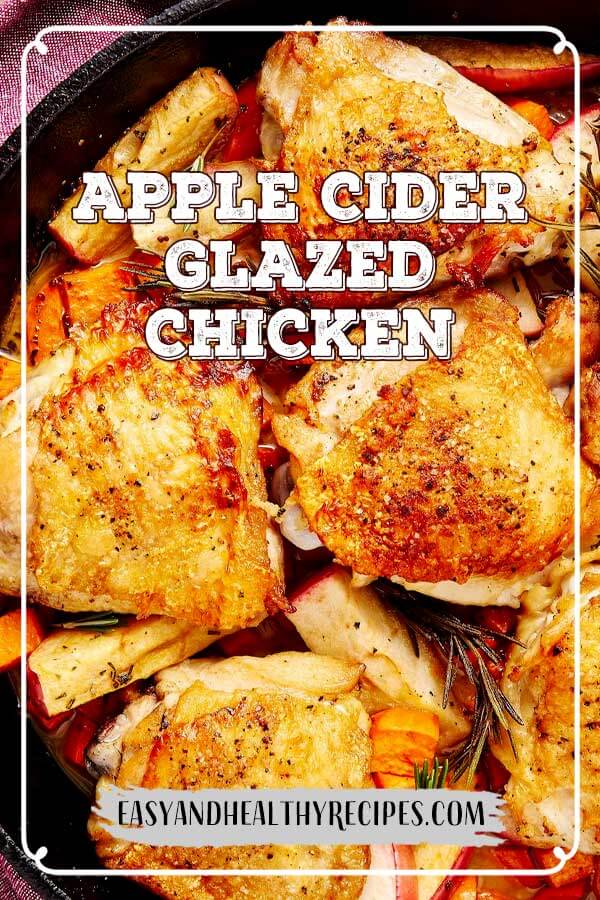 Apple Cider Glazed Chicken
Course: Dinner, Main
Cuisine: American
Difficulty: Medium
If you are finding something juicy and tangy to make with chicken, this apple cider glazed chicken is the way to go. My family fall for it and hope you do, too.
Ingredients
6 bone-in, skin-on chicken thighs, trimmed

2/3 c. apple cider

2 tbsp. honey

1 tbsp. Grainy mustard

1 tbsp. butter

1 large sweet potato, peeled and cubed

2 apples, sliced

2 tbsp. olive oil, divided

1 tbsp. chopped fresh rosemary

kosher salt

Freshly ground black pepper

3 rosemary sprigs, for skillet
Directions
Preheat oven to 425° F.
Combine potatoes, apples and chopped rosemary in a medium bowl, and season with salt and pepper. Drizzle with 1 tablespoon olive oil and toss until combined.
Heat remaining olive oi in a large ovenproof skillet over medium-high heat. Add chicken and sear, skin side down, until golden, about 2 minutes. Remove from heat and set aside.
Add apple cider, honey and grainy mustard to skillet. Bring mixture to a rapid simmer and cook until mixture has reduced slightly. Whisk in butter.
Return chicken to skillet, skin side up, and scatter sweet potato mixture and rosemary sprigs around chicken. Turn off heat and transfer skillet to the oven.
Bake until sweet potatoes are tender and chicken is cooked through, about 20 minutes. (If potatoes need longer to cook, transfer chicken to a cutting board to rest and continue cooking until tender.)
Serve chicken and potatoes with pan drippings. Enjoy!
Recipe Video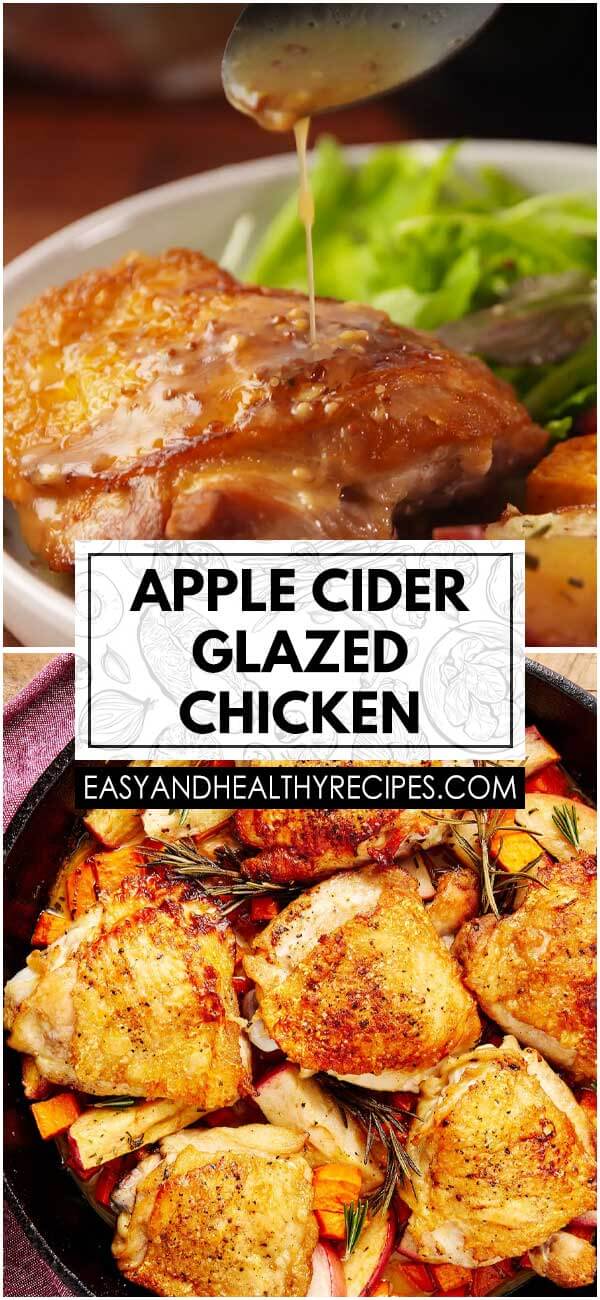 Source: https://www.delish.com/cooking/recipe-ideas/recipes/a56028/apple-cider-glazed-chicken-recipe/