If you are a fan of hasselback vegetables, you should never miss this Loaded Stuffed Zucchini. Zucchini is cut with slit, about ¾ of the way through, baked until pliable, sprinkled with grated cheddar and crumbled bacon, and returned to oven until cheese is melty and bubbly. Coming out tangy and tasty, this zucchini is an appealing side dish for any meal. Yummy!
Loaded Stuffed Zucchini
Course: Sides
Cuisine: American
Difficulty: Easy
This loaded stuffed zucchini is now one of my favorite recipes for zucchini. It's great to make at any time, for any occasion.
Ingredients
3 zucchini, halved

4 slices bacon, cooked and crumbled

2 c. shredded Cheddar

1/4 c. sour cream

2 tsp. Chopped chives
Directions
Preheat oven to 425° F.
Cut both ends off zucchini and discard. Line up chopsticks on either side of zucchini, then carefully make 1/4" slices, making sure your knife hits the chopsticks. Repeat with remaining zucchini.
Transfer zucchini to a parchment-lined rimmed baking sheet and bake until pliable, 10 minutes.
Sprinkle zucchini with cheddar and bacon, then return to oven for another 8 to 10 minutes, until cheese is melted and bubbly.
Let cool slightly, then top with sour cream and chives. Serve.
Recipe Video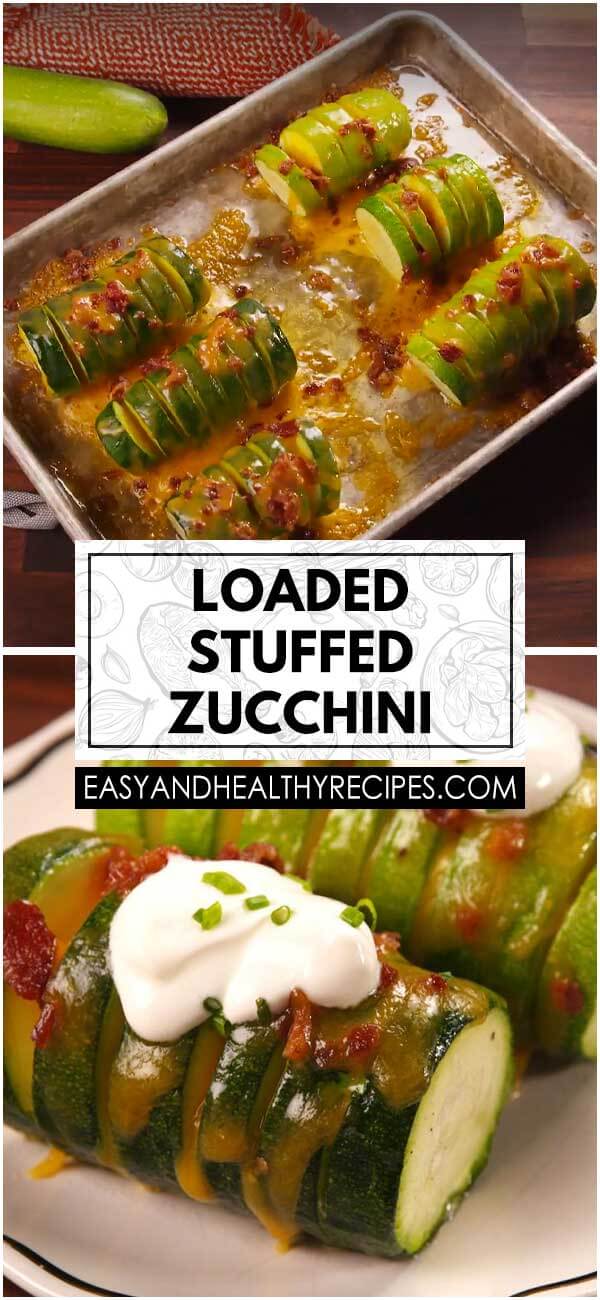 Source: https://www.delish.com/cooking/recipe-ideas/recipes/a54719/loaded-stuffed-zucchini-recipe/