Get ready to devour this Cajun Parmesan Salmon? It's a flavor-packed salmon dish that's great to make at any time. Salmon fillets, Cajun seasoning, parmesan, butter, lemon, honey, chicken or vegetable broth, and black pepper combine together. The food tastes insanely good and quite easy to cook, making it a perfect food for family dinners and small parties.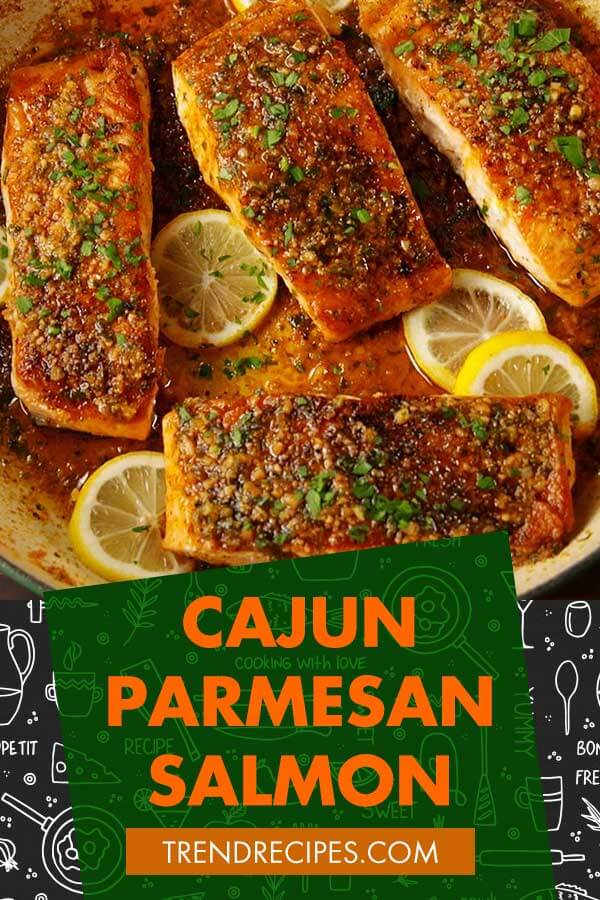 Cajun Parmesan Salmon
Course: Dinner, Main
Cuisine: American
Difficulty: Medium
This Cajun parmesan salmon is one of my favorite recipes for salmon. If you get interested in, do not hesitate to give it a go. Enjoy!
Ingredients
4 (4-oz.) fillets salmon (preferably wild)

2 tsp. Cajun seasoning, divived

2 tbsp. freshly grated Parmesan

1/3 c. low-sodium chicken or vegetable broth

2 tbsp. butter

Juice of 1 lemon

1 tbsp. honey

3 cloves garlic, minced

Freshly ground black pepper

1 tbsp. extra-virgin olive oil

1 tbsp. freshly chopped parsley, plus more for garnish

Lemon slices, for serving
Directions
Heat oil in a large skillet over medium-high heat.
Season salmon with 1 teaspoon Cajun seasoning and pepper, then place in skillet, skin-side up.
Cook until salmon is deeply golden, about 6 minutes. Then flip over and cook 2 minutes more. Transfer to a plate.
Add butter and garlic to skillet. Once butter has melted, stir in broth, lemon juice, honey, remaining teaspoon Cajun seasoning, parsley, and Parmesan. Bring mixture to a simmer.
Reduce heat to medium and return salmon to skillet. Let simmer until sauce has reduced and salmon is cooked through, 3 to 4 minutes more.
Garnish with lemon slices and serve.
Recipe Video
Source: https://www.delish.com/cooking/recipe-ideas/recipes/a54432/cajun-parmesan-salmon-recipe/