These Cheeseburger Cups are one of the cutest ways to eat cheeseburger. As the name may suggest, they're burger bun cups filled with cooked beef burgers and sliced cheddar, and baked until cheese is melty and buns are golden. These cups finish off with drizzles of ketchup and mustard, pickle and sprinkles of sesame seeds on top. Coming out delicious and pretty cute, these surely get both kids and adults hooked.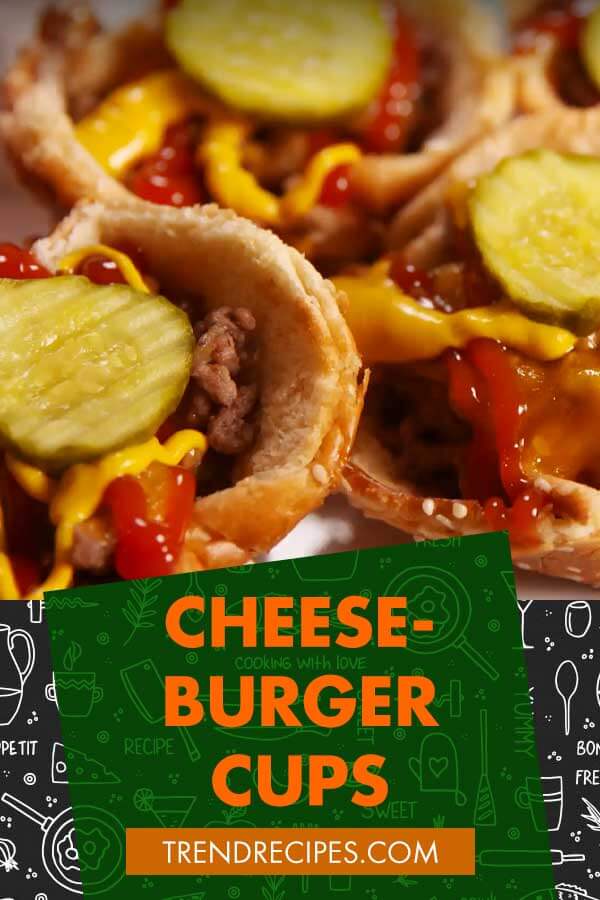 Cheeseburger Cups
Course: Breakfast, Brunch, Lunch
Cuisine: American
Difficulty: Medium
If you are finding something new for breakfast and brunch, you should never miss these cheeseburger cups a go.
Ingredients
1 lb. ground beef

12 pickle chips

3 slices cheddar, quartered

1 medium onion, chopped

1/2 tsp. garlic powder

Kosher salt

Freshly ground black pepper

Cooking spray

1 tbsp. vegetable oil

Ketchup, for serving

Yellow mustard, for serving

Sesame seeds, for garnish
Directions
Preheat oven to 350° F and spray a muffin tin with cooking spray.
Flatten burger bun halves to 1/4 inch thick; using a rolling pin. Place buns, cut-side up in each prepared muffin cup.
Heat oil in a large skillet over medium-high heat. Add onion and cook, stirring, until soft, about 5 minutes.
Add ground beef and cook, breaking up with a wooden spoon, until no longer pink, about 6 minutes. Drain fat.
Bring beef mixture back to skillet and season with garlic powder, salt, and pepper.
Divide ground beef mixture among burger bun cups and top each with a cheddar cheese square. Bake until cheese is melty and buns are golden, about 10 minutes.
Add drizzles of ketchup and mustard on cups, top with a pickle, and sprinkle with sesame seeds.
Serve warm.
Recipe Video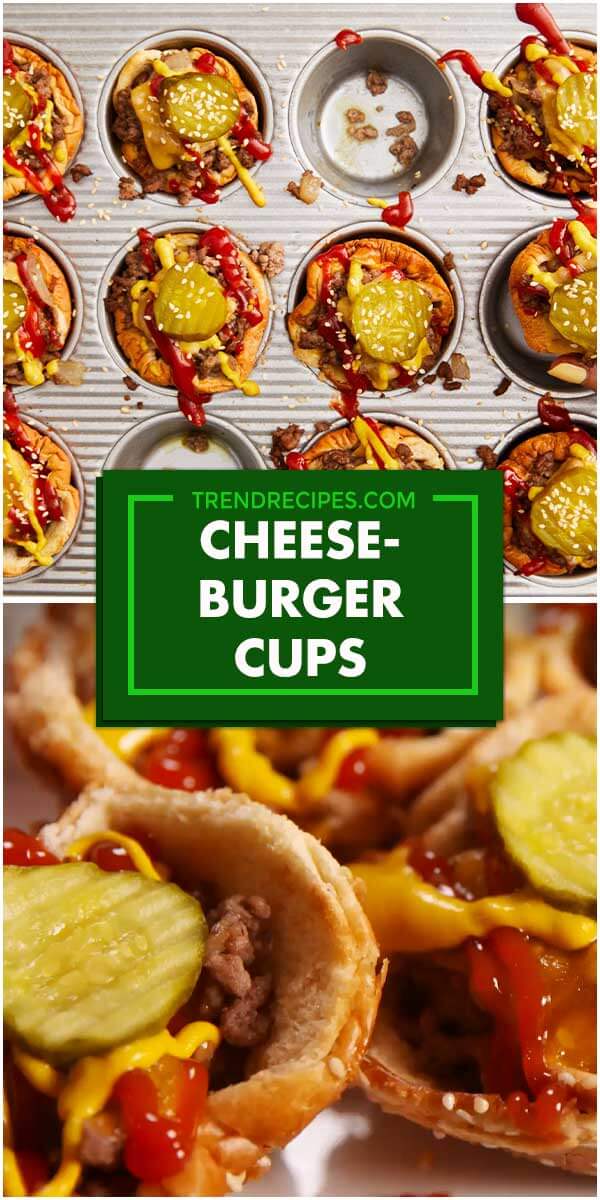 Source: https://www.delish.com/cooking/recipe-ideas/recipes/a54351/cheeseburger-cups-recipe/