This Ice Cream baked Potato may get you wrong. It's not "potato" at all. Ice cream is scooped, then pressed into russet potato shape, rolled into cocoa powder until completely coated, kept in the freezer to set, topped with whipped cream and other toppings of your choice (yellow starburst, licorice, cinnamon..). Coming out tasty and tangy, these "potatoes" will keep you satisfied.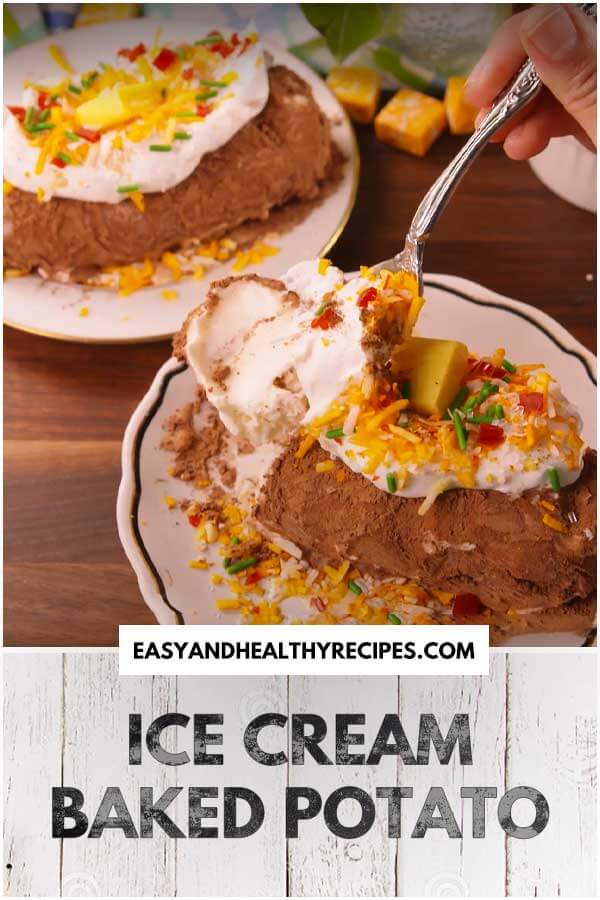 Ice Cream Baked Potato
Course: Snacks
Cuisine: American
Difficulty: Easy
If you are finding something tasty and fun to eat, just give these ice cream baked potatoes a try. Enjoy!
Ingredients
1/2 gal. vanilla ice cream

3/4 c. cocoa powder, sifted

1/2 c. shredded coconut

Orange and yellow food coloring

1 c. whipped cream

4 yellow starbursts

Red licorice, chopped finely

white sanding sugar

1 tsp. ground cinnamon

green sprinkles
Directions
To form ice cream "potatoes," scoop about 1/2 cup of ice cream onto a piece of plastic wrap. Cover with plastic wrap and press into a russet potato shape. Freeze until firm, about 2 hours.
Pour cocoa powder in a medium shallow bowl.
Working by one, dip an ice cream potato in cocoa powder, roll until completely coated. Transfer covered potato to freezer while you roll the rest.
To make coconut "cheese." In a small bowl, add a couple drops each of orange and yellow food coloring to shredded coconut. Stir to combine.
Cut a thin slit out of top of each ice cream potato, dollop whipped cream on top. (That's your sour cream!)
Top each potato with a yellow starburst (butter), sprinkle with licorice (bacon), white sanding sugar (salt), cinnamon (pepper), and green sprinkles (chives).
Serve immediately.
Recipe Video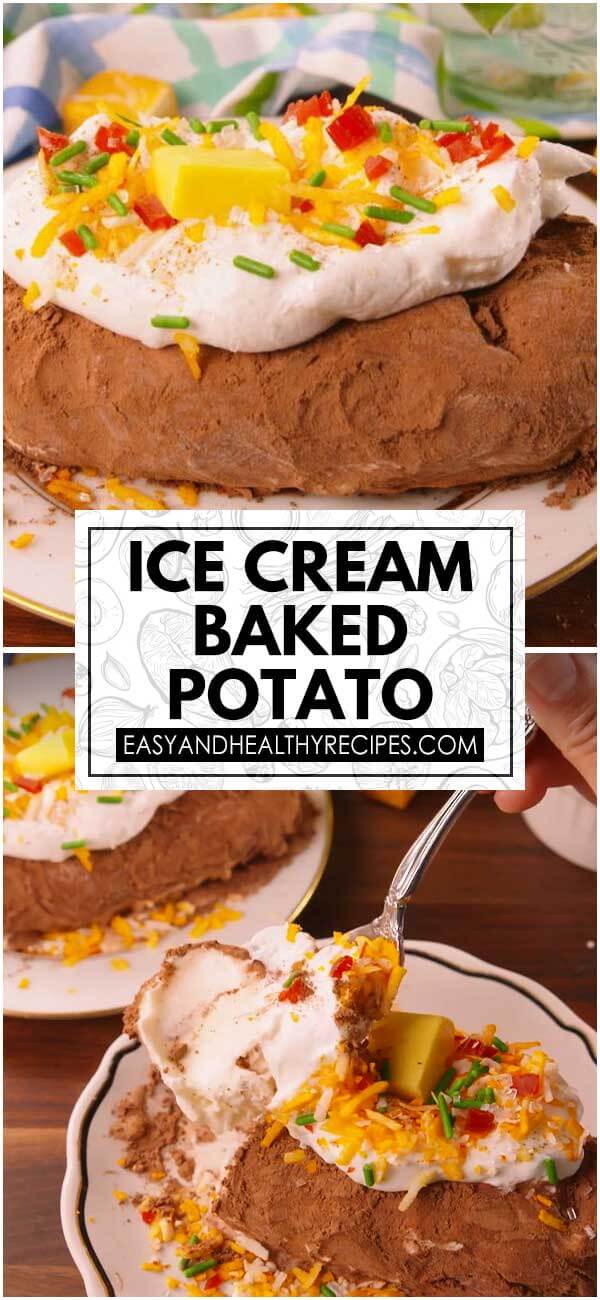 Source: https://www.delish.com/cooking/recipe-ideas/recipes/a54703/ice-cream-baked-potato-recipe/