Marshmallow Crunch Brownies
These Marshmallow Crunch Brownies are one of the cutest ways to enjoy marshmallows. They're brownie cups made with chocolate chips, marshmallows, eggs, cocoa powder, espresso powder, butter, and vanilla extract, and topped with fudge topping of chocolate chips, peanut butter, butter and cocoa krispies. Coming out soft and flavorful, these get both kids and adults hooked.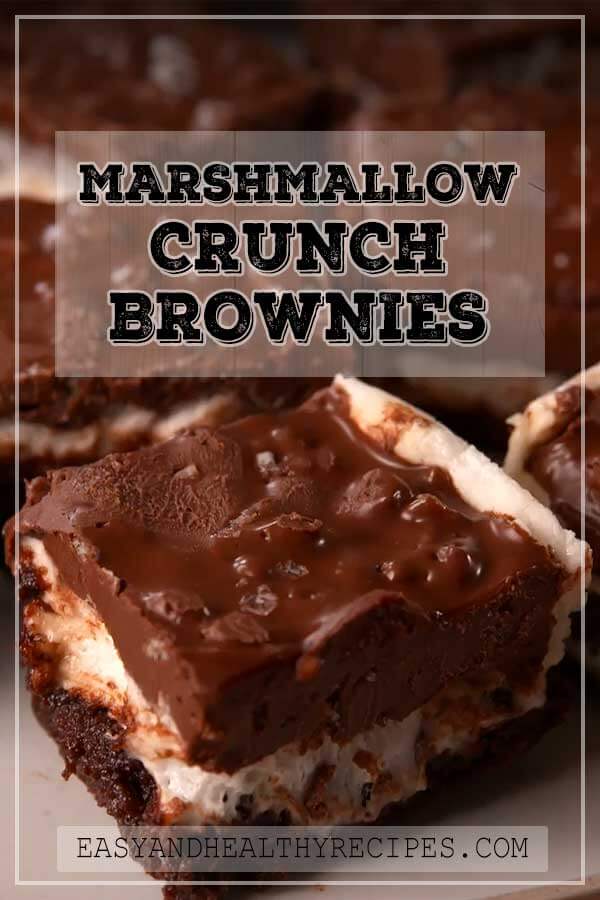 Marshmallow Crunch Brownies
Course: Dessert, Snacks, Breakfast
Cuisine: American
Difficulty: Medium
If you are finding delicious and creative brownies, these marshmallow crunch brownies are the way to go. They're now one of my guilt's pleasures.
Ingredients
FOR THE BROWNIES

1 1/4 c. chocolate chips

1 c. butter

2 c. mini marshmallows

1/4 c. cocoa powder

1 tsp. espresso powder

4 large eggs

3/4 c. granulated sugar

1/4 c. brown sugar

1 tsp. pure vanilla extract

pinch of kosher salt

Nonstick cooking spray, for pan

FOR THE FUDGE TOPPING

2 c. chocolate chips

2 c. cocoa krispies

1 c. peanut butter

4 tbsp. butter

Flaky sea salt, for sprinkling
Directions
Prepare a 8″-x-8″ pan and grease with nonstick cooking spray. Set aside.
Combine chocolate and butter in a medium saucepan over low heat. Cook, stirring often until melted and smooth. Remove from heat and let cool slightly.
Combine granulated sugar, brown sugar, eggs, and vanilla in a large bowl. Beat with a hand mixer until smooth.
Add in melted chocolate mixture and mix until well combined. Add cocoa powder, espresso powder and salt and stir until combined.
Pour batter into prepared pan and bake until the edges of brownies are mostly set, about 20 minutes.
Remove brownies from oven and add marshmallows on top. Return to oven and bake until brownies are cooked through and marshmallows are melty, about 10 minutes. Let brownies cool to room temperature.
To make fudge topping: Combine chocolate chips, peanut butter, and butter in a small saucepan over medium-low heat.
Cook, stirring often, until chocolate and butter have melted and mixture is smooth.
Remove from heat and immediately stir in Cocoa Krispies.
Dollop fudge onto cooled brownies and spread to make an even, thick layer, then sprinkle with sea salt.
Let cool completely, then slice into squares. Serve.
Recipe Video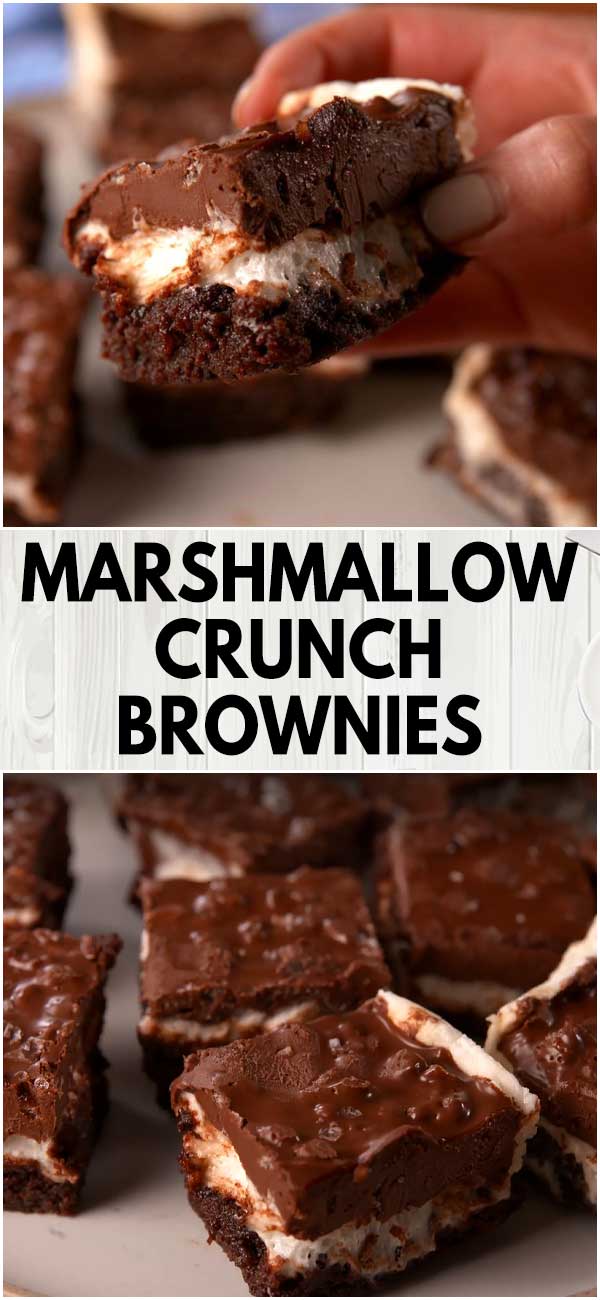 Source: https://www.delish.com/cooking/recipe-ideas/recipes/a53362/marshmallow-crunch-brownies-recipe/