These Mac & Cheese Bun Burgers are one of the cutest ways to eat mac and cheese and burger. My family has fallen in love with these since the first time we tasted them. Form cooked mac and cheese into patties, then dipped in flour, egg mixture, and bread crumbs respectively. These "buns" are then fried until golden fried on both sides, and topped with burgers, lettuce and tomato. And, ready to serve. Who can't resist them?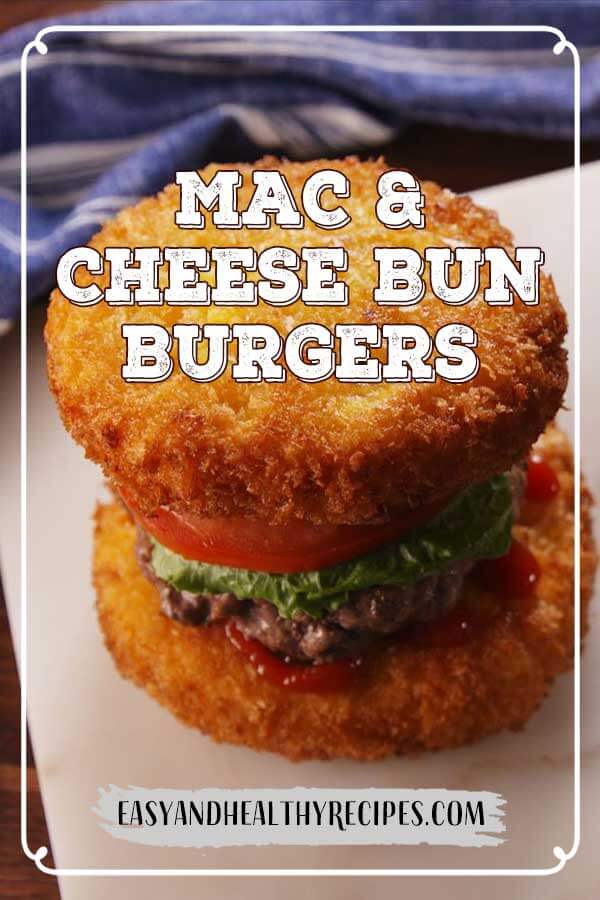 Mac & Cheese Bun Burgers
Course: Lunch, Dinner
Cuisine: American
Difficulty: Medium
If you get bored with daily mac and cheese, just give these mac & cheese bun burgers a go. It's an appealing lunch and dinner.
Ingredients
1 box macaroni and cheese, plus ingredients called for on box

1 lb. ground beef

2 large eggs, lightly beaten

2 c. panko bread crumbs

1 tbsp. milk

2 c. all-purpose flour

kosher salt

Freshly ground black pepper

Vegetable oil, for frying

Lettuce, for serving

Tomato slices, for serving

Ketchup, for serving
Directions
Prepare mac and cheese according to package instructions. Cover with plastic wrap and refrigerate until firm, about 3 hours.
Prepare 3 separate shallow bowls: first for flour, salt, and pepper; second for eggs and milk; third for bread crumbs.
Using a 1/3 cup measure, scoop out mac and cheese. Form into patties.
Toss in seasoned flour, dunk in the egg mixture to coat, then dredge in bread crumbs.
Heat 1/2 inch of vegetable oil in a large skillet over high heat until oil starts to shimmer. Add mac and cheese "buns" and cook until golden on both sides, flipping after about 2 minutes.
Drain on a paper towel-lined plate and season with salt.
Heat oil in a large skillet over medium heat. Add burgers and cook until seared on both sides and cooked to your liking, about 4 minutes. Remove from skillet.
To assemble, top three "buns" with burgers, lettuce and tomato. Serve.
Recipe Video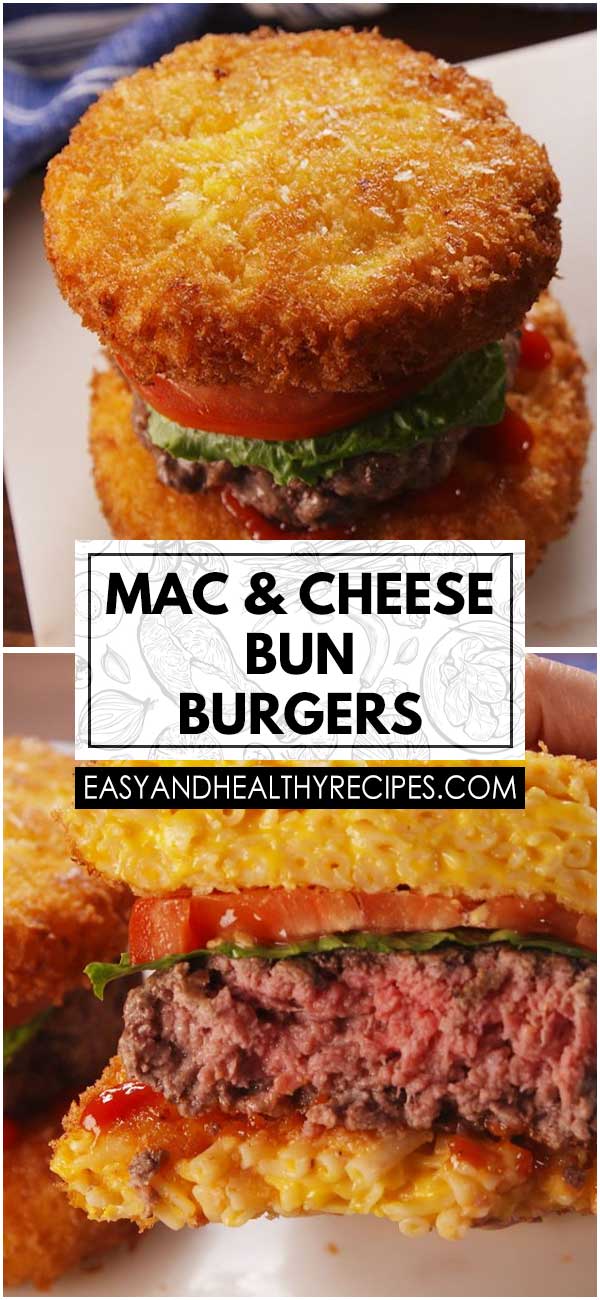 Source: https://www.delish.com/cooking/recipe-ideas/recipes/a54710/mac-and-cheese-bun-burgers-recipe/