If you are a big fan of BLT Salad, you should never miss these BLT burgers for meals. They're protein-rich breakfast, delicious lunch and easy dinner. Beef patties, sliced tomato and lettuce are served over bacon weave (as the burger buns). These burgers are not only delicious but also low in carbs. If you are adopting a low carb diet, just add these to your meals.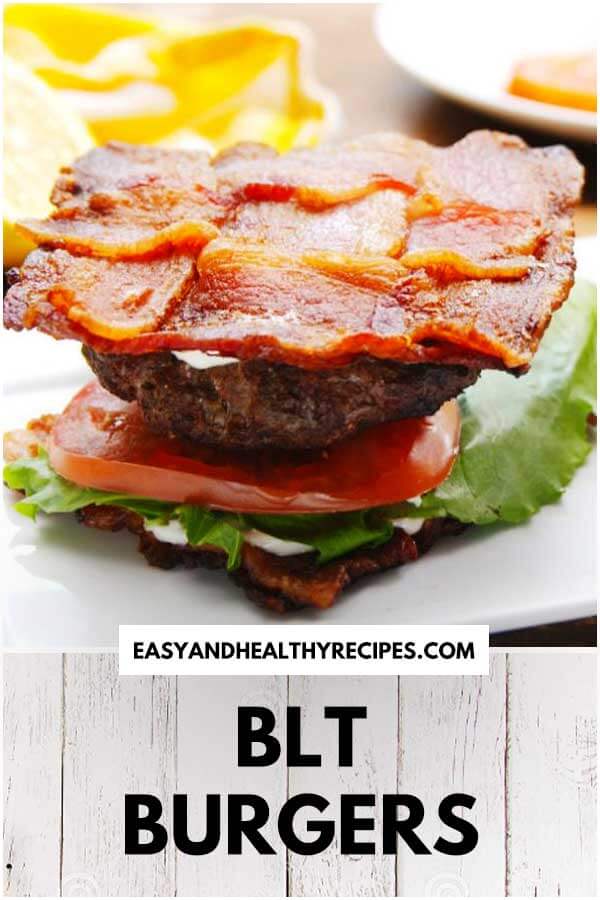 BLT Burgers
Course: Breakfast, Brunch, Lunch
Cuisine: American
Difficulty: Easy
I make these BLT burgers for brunch once a month. Sometimes, I replace bacon weave with normal burger buns as I'm not a low-carb eater.
Ingredients
1 lb. ground beef

1 lb. bacon slices, halved

butterhead lettuce, for serving

2 tomatoes, sliced

1/2 c. mayonnaise

Juice of 1/2 lemon

3 tbsp. finely chopped chives

kosher salt

fresh ground black pepper
Directions
Preheat oven to 400º F and place a baking rack inside of a baking sheet (to help catch grease).
To make bacon weave: On the baking rack, line 3 bacon halves side-by-side. Lift one end of the middle bacon slice and place a fourth bacon half on top of the side pieces and underneath the middle slice. Lay the middle slice back down.
Next, lift the two side strips of bacon and place a 5th bacon half on top of the middle piece and underneath the sides. Lay the side slices back down.
Finally, lift the other end of the middle slice and place a 6th slice on top of the side pieces and underneath the middle slice. Repeat to make a second weave.
Season with pepper and bake until bacon is crispy, 25 minutes. Transfer to a plate lined with paper towel to drain. Let cool for at least 10 minutes.
To make burgers: Preheat a grill (or grill pan) to medium-high heat. Form ground beef into large patties and season both sides with salt and pepper.
Grill until cooked to your liking, about 4 minutes per side for medium.
To make herb mayo: Add together mayonnaise, lemon juice, and chives to a small bowl, whisk to combine.
To assemble: place a bacon weave on the bottom, spread with some herb mayo, top with burger, lettuce, tomato and remaining bacon weave.
Serve immediately.
Recipe Video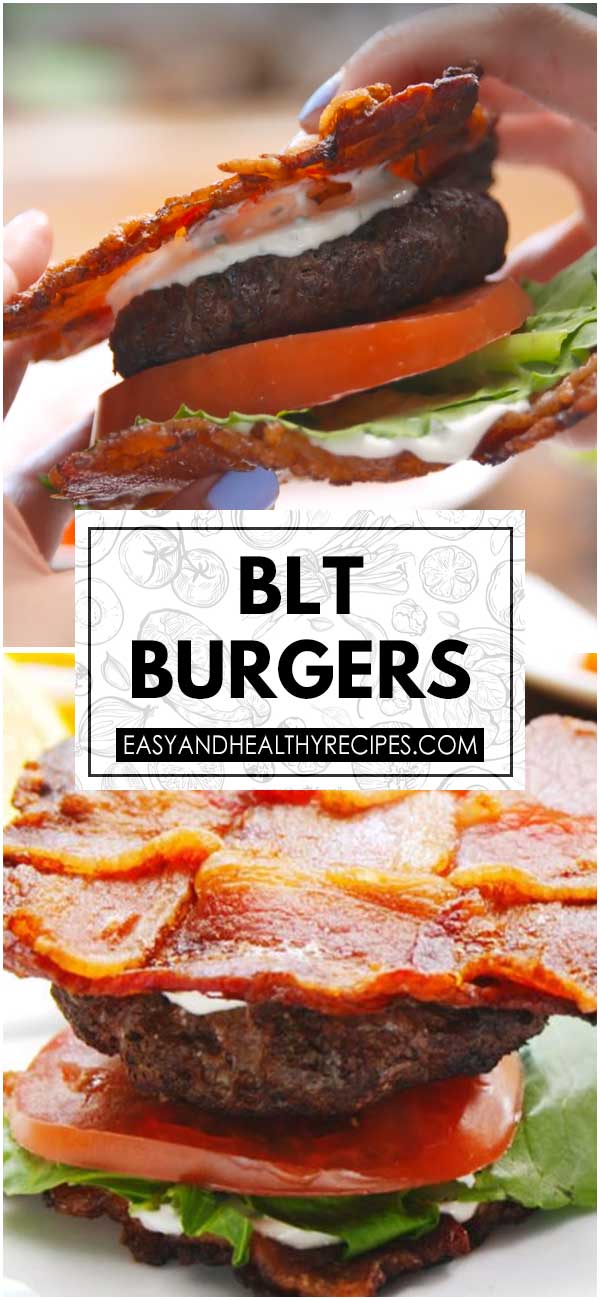 Source: https://www.delish.com/cooking/recipe-ideas/recipes/a54644/blt-burgers-recipe/