Loaded with flavors, and cute in shape, this Cinnamon Roll Dutch Baby surely gets you hooked. Dutch baby batter is covered with cinnamon swirl of butter, brown sugar, cinnamon, and salt, and baked until golden and puffed. It's then generously drizzled with a glaze of cream cheese, powdered sugar, and whole milk. My kids go crazy for this cake from the first time tasting them. They love it for breakfast and snack.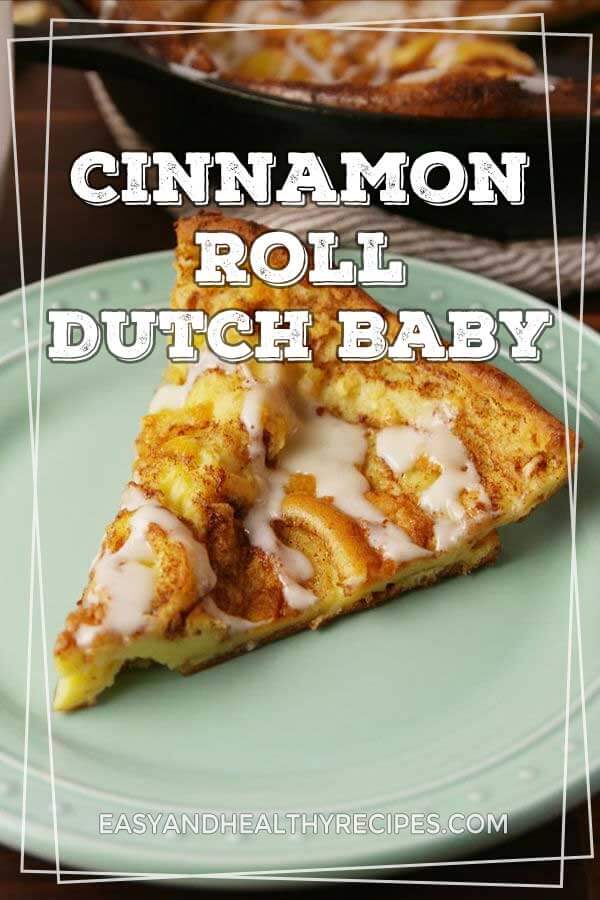 Cinnamon Roll Dutch Baby
Course: Snacks, Breakfast
Cuisine: American
Difficulty: Easy
Weekend is coming, why don't you make this cinnamon roll Dutch baby for your family? If your kids get interested, just let them add glaze to the cake. Enjoy!
Ingredients
FOR DUTCH BABY

3 eggs

1/2 c. flour

1/2 c. whole milk

1 tbsp. sugar

1/4 c. butter

FOR CINNAMON SWIRL

1/4 c. Butter, softened to room temperature

1/4 c. brown sugar

1 tsp. cinnamon

Pinch kosher salt

FOR GLAZE

4 oz. cream cheese, softened

1/2 c. powdered sugar

3 tbsp. whole milk
Directions
Preheat oven to 425°F.
Add eggs, flour, milk, and sugar to a blender or food processor, and blend until smooth. Set aside.
Combine butter, brown sugar, cinnamon and kosher salt in a medium bowl; using a hand mixer. Transfer to a ziplock bag or piping bag.
Melt butter in a 10-inch skillet over medium heat. Pour batter into pan and pipe cinnamon mixture in a swirl starting in the center and moving outward.
Bake for 20-25 minutes, or until pancake is golden and puffed. Lower temperature of oven to 300 and bake 5 minutes more.
To make glaze: In a medium bowl, beat cream cheese, powdered sugar, and whole milk until smooth.
Once Dutch baby removed from the oven, drizzle with glaze. Serve.
Recipe Video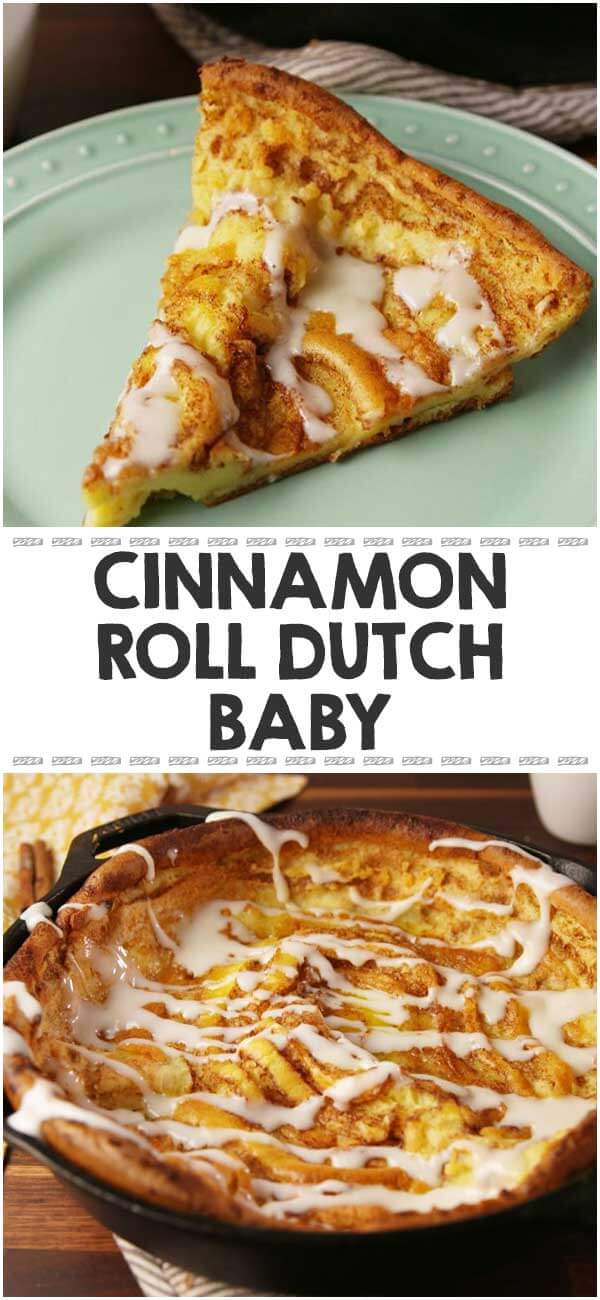 Source: https://www.delish.com/cooking/recipe-ideas/recipes/a56297/cinnamon-roll-dutch-baby-recipe/