Spaghetti & Meatball Ring
Your taste buds are in a treat with this Spaghetti & Meatball Ring. It's one of the craziest foods you can make with spaghetti and ground beef. Coming out cheesy, flavorful and super duper impressive, this ring gets both kids and adults hooked. When I served it at family weekend gathering, it became the "star" of the show. My sister got so excited that she asked me for the recipe to make it at home. So good!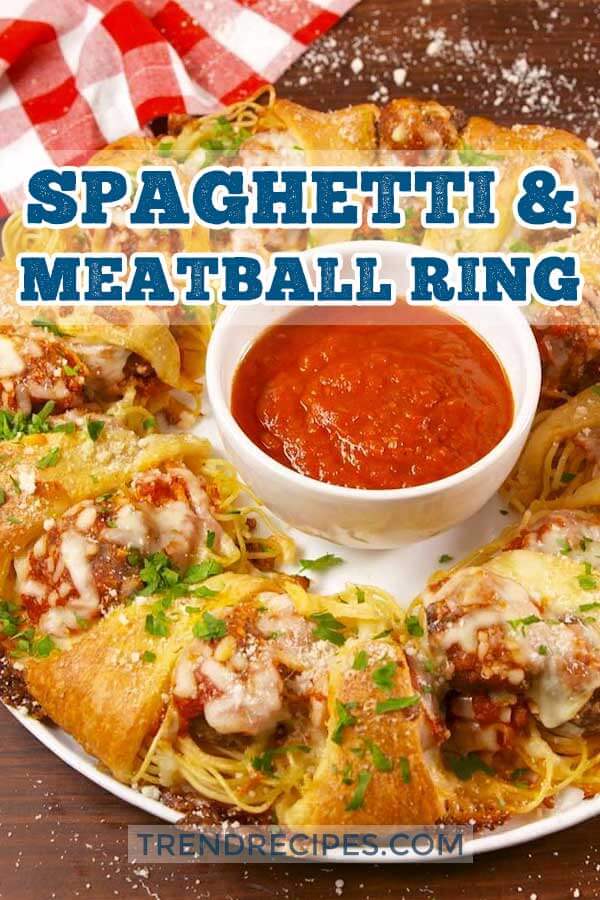 Spaghetti & Meatball Ring
Course: Dinner, Lunch
Cuisine: American
Difficulty: Easy
This spaghetti and meatball ring is great for both family dinners and gatherings. Spend 1 hour, and it's ready to serve.
Ingredients
3/4 lb. ground beef

1/2 lb. spaghetti

2 c. marinara sauce

2 tubes crescent dough

1 1/2 c. shredded mozzarella

1/2 c. finely chopped onion

1/3 c. bread crumbs (preferably Italian)

1/4 c. plus 2 tbsp. grated parmesan, divided

1/4 c. chopped parsley, plus more for garnish

1 egg, lightly beaten

2 cloves garlic, minced

Kosher salt

Freshly ground black pepper

1 tbsp. extra-virgin olive oil
Directions
Preheat oven to 400°F.
Add ground beef, onion, bread crumbs, ¼ cup Parmesan, parsley, egg and garlic to a large bowl, mix until combined. Season with salt and pepper.
Form mixture into small meatballs (about 1") and place on baking sheet. Drizzle with oil.
Bake until mostly cooked through, 12 to 15 minutes. Reduce oven temperature to 375°.
Bring a large pot of salted water to a boil. Add pasta and cook until al dente, about 10 minutes. Drain.
Prepare a large baking sheet lined with parchment paper. Unroll crescent rolls and piece together like a sun shape, slightly overlapping, on the parchment.
Top with spaghetti, then nestle baked meatballs on top. Spoon about 1 cup marinara sauce over meatballs and spaghetti, then sprinkle mozzarella on top. Gently roll up.
Brush tops of crescents with olive oil, then sprinkle with remaining Parmesan.
Bake until crescents are golden, 12 to 15 minutes. Sprinkle with more parsley. Serve warm with marinara for dipping.
Recipe Video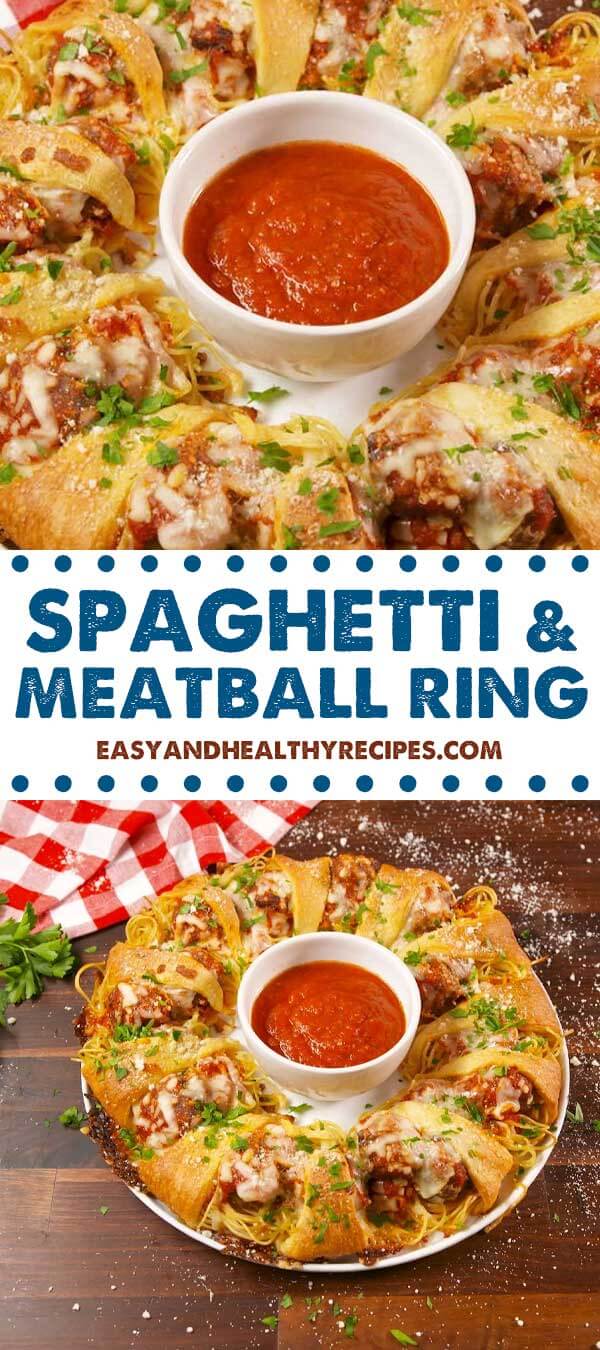 Source: https://www.delish.com/cooking/recipe-ideas/recipes/a57732/spaghetti-meatball-ring-recipe/