Bacon Weave Breakfast Tacos
Bacon Weave Breakfast Tacos are here. Scrambled eggs, shredded Monterey jack, and sliced avocado served over bacon taco shells. Drizzled with some hot sauce on top, these taste incredibly good. Breakfast and tacos meals are no longer boring with these. My family goes crazy for these right from the moment we tasted them. Yummy!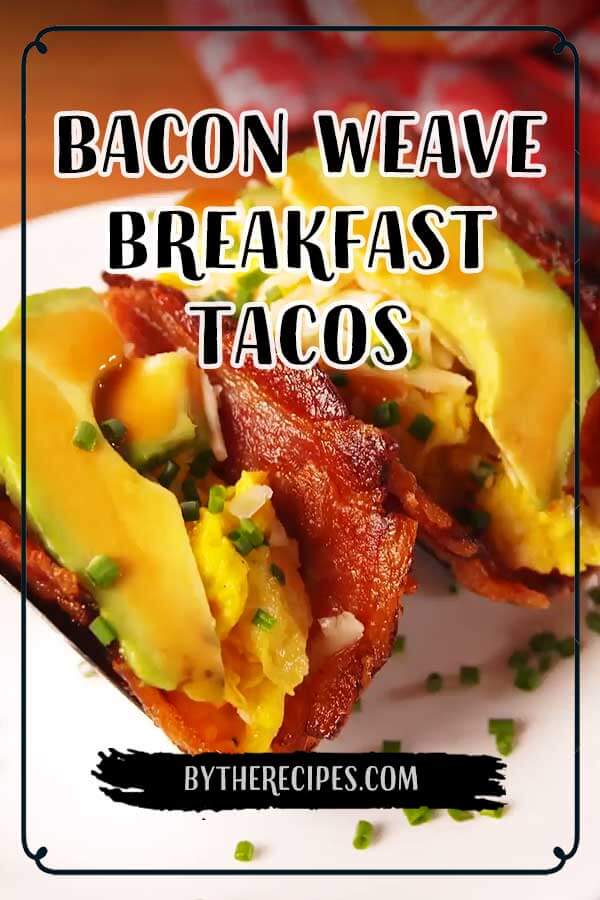 Bacon Weave Breakfast Tacos
Course: Breakfast, Brunch
Cuisine: American
Difficulty: Medium
Delicious and low in carbs, these bacon weave breakfast tacos are perfect for keto and low-carb meals. If you get interested, do not hesitate to give these a try.
Ingredients
16 slices bacon, halved

6 large eggs

1/4 c. shredded Monterey jack

1 avocado, sliced

Hot sauce, for serving

1 tbsp. whole milk

1 tbsp. butter

Kosher salt

Freshly ground black pepper

2 tbsp. chopped chives
Directions
Preheat oven to 400° F and prepare a large rimmed baking sheet lined with foil.
Make a bacon weave with 8 halves of bacon each, creating a square. Repeat to make 4 weaves in total. Season with pepper.
Lay an inverted baking rack on top to make sure bacon lays flat.
Bake until bacon is mostly crispy, 30 to 35 minutes.
Immediately trim each square with a paring knife or kitchen shears to make a round shape.
Add eggs and milk to a medium bowl, and whisk until well incorporated.
Melt butter in a medium nonstick skillet over medium-low heat.
Pour in egg mixture. Gently move eggs around with a spatula, creating large curds.
Once eggs are cooked to your liking, season with salt and pepper. Fold in chives and remove from heat.
To assemble, place bacon taco shells on a serving platter. Top with scrambled eggs.
Sprinkle each with cheese, nestle in a few slices of avocado, and top with hot sauce. Serve.
Recipe Video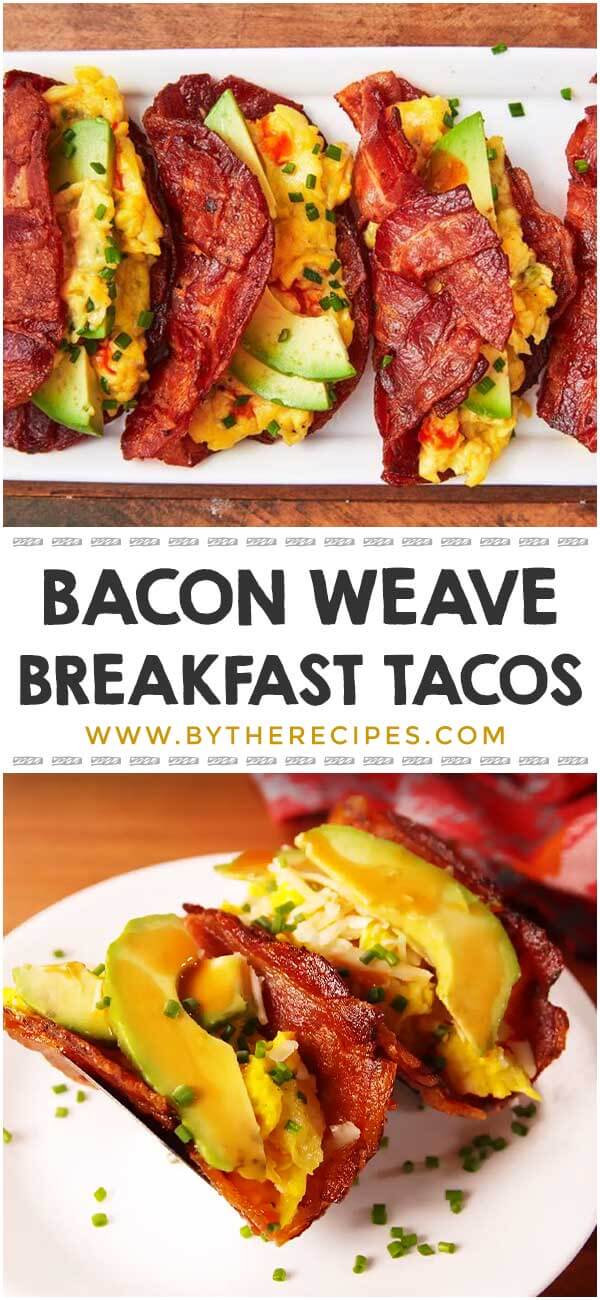 Source: https://www.delish.com/cooking/recipe-ideas/recipes/a54272/bacon-weave-breakfast-tacos/