Loaded Grilled Cauliflower
This Loaded Grilled Cauliflower is one of the bestest cauliflower recipe that I've tried. It's incredibly easy to make yet packed with flavors. Cauliflower is cut into thick steaks, brushed with olive oil mixture, grilled on the grill, topped with shredded cheddar and cooked until melty. These "steaks" are then drizzled with ranch dressing and sprinkled with crispy crumbled bacon and chives. Who can resist them? I know that I can't.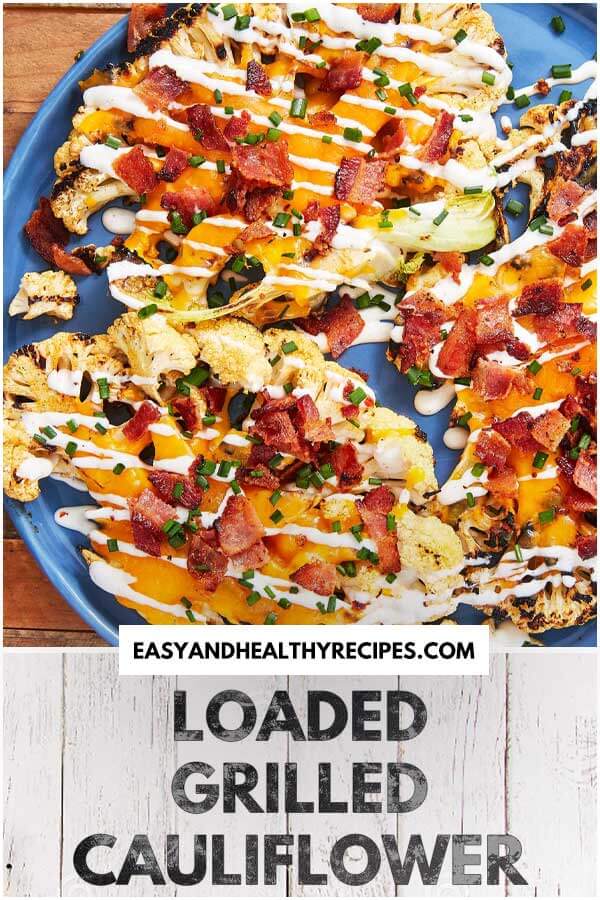 Loaded Grilled Cauliflower
Course: Sides
Cuisine: American
Difficulty: Easy
Cauliflower meals are no longer boring with this these loaded grilled cauliflower steaks. My family just fall for them.
Ingredients
2 large heads cauliflower

2 c. shredded cheddar

Ranch dressing, for drizzling

8 slices cooked bacon, crumbled

1/4 c. extra-virgin olive oil

1/2 tsp. garlic powder

1/2 tsp. paprika

2 tbsp. finely chopped chives

Kosher salt

Freshly ground black pepper
Directions
Remove and discard leaves from each cauliflower head, then trim stem to make cauliflower lie flat on cutting board. (Leave the core intact!)
Cut cauliflower into thick "steaks", about 3/4″ thick. Reserve any loose florets to cook with steaks.
Add olive oil, garlic powder, and paprika to a small bowl, whisk to combine. Season with salt and pepper.
Preheat a grill or grill pan to medium.
Brush one side of each steak with olive oil mixture and lay brushed side down on grill. Brush top with olive oil mixture and cook until tender and both sides are charred in spots, about 8 minutes per side. Top each cauliflower with cheese and cook until melted.
Toss any extra florets in olive oil mixture and grill, turning often, until charred and tender, about 6 minutes.
Drizzle cauliflower with ranch dressing, then sprinkle with cooked bacon and chives on top. Serve warm.
Recipe Video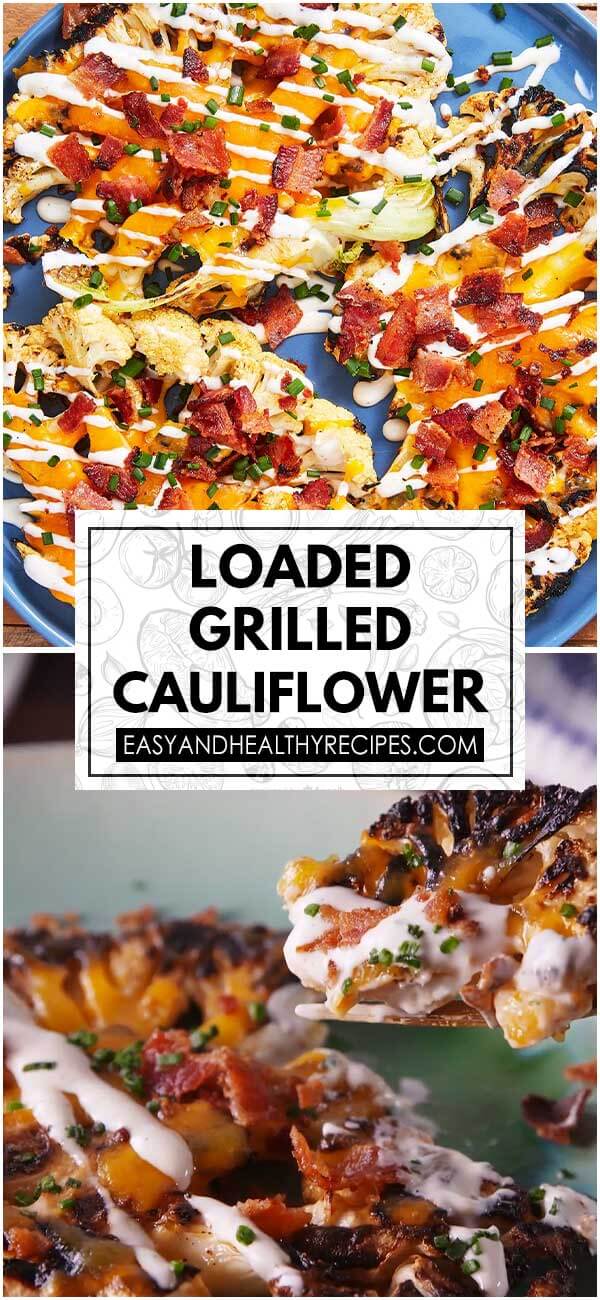 Source: https://www.delish.com/cooking/recipe-ideas/recipes/a54879/loaded-grilled-cauliflower-recipe/