Parmesan Zucchini Fritters
Healthy, tangy and delicious, these Parmesan Zucchini Fritters are a "must-serve" side dish for any meal. If you are finding a way to get your kids eat zucchini without getting bored, just go for these fritters. My kids and I have been big fans of them from the moment we gave them a try. Weekend is coming, I'm serving this alongside garlic baked chicken. It's worth waiting for!
Parmesan Zucchini Fritters
Course: Sides, Appetizers
Cuisine: American
Difficulty: Easy
These parmesan zucchini fritters are quite easy to make and fun to eat. Just give them a try to jazz up boring zucchini meals.
Ingredients
1 lb. zucchini (about 2 large)

1/2 c. freshly grated Parmesan

3/4 c. all-purpose flour

1/2 Onion, finely chopped

3 large eggs, beaten

1/2 tsp. garlic powder

1 1/2 tbsp. extra-virgin olive oil

1/2 c. marinara

1 tbsp. thinly sliced fresh basil

1 clove garlic, minced

1 tsp. crushed red pepper flakes

kosher salt

Freshly ground black pepper
Directions
Using a box grater, grate zucchini. Using a cheesecloth or clean dishtowel, squeeze out as much liquid as possible.
Add shredded zucchini, onion, eggs, and garlic powder to a large bowl. Season with salt and pepper and stir to combine.
Mix in Parmesan and flour and stir until fully incorporated.
Heat olive oil in a large skillet over medium-high heat.
Scoop ¼ cup batter into skillet, flatten to form a fritter and cook until golden, 2 minutes per side.
Combine marinara with basil, garlic and red pepper flakes in a small bowl.
Serve fritters with sauce.
Recipe Video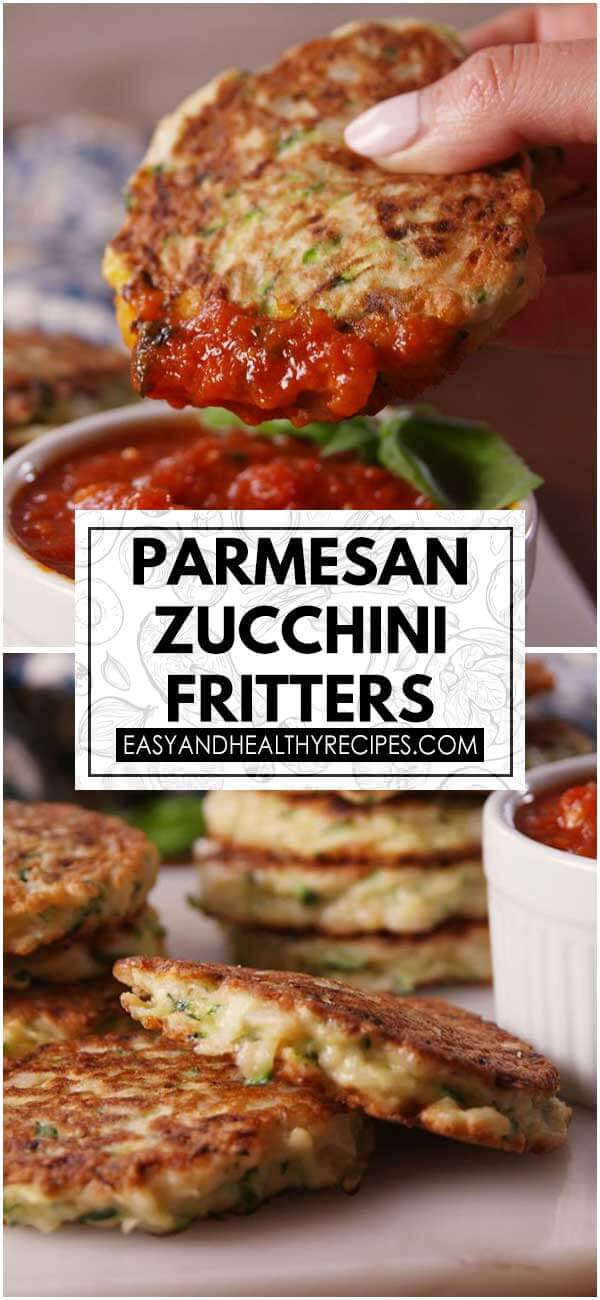 Source: https://www.delish.com/cooking/recipe-ideas/recipes/a54809/parmesan-zucchini-fritters-recipe/