This Drumstick Pie is sweet and tangy layers of crumbled sugar cones and graham crackers (as a crust), ice cream, mini drumsticks, ganache, and sprinkles of chopped peanut on top. It's an amazing treat for weekend meals and small parties. I'm hosting a game day viewing party next weekend, and plan to serve this pie at dessert. It's worth waiting for!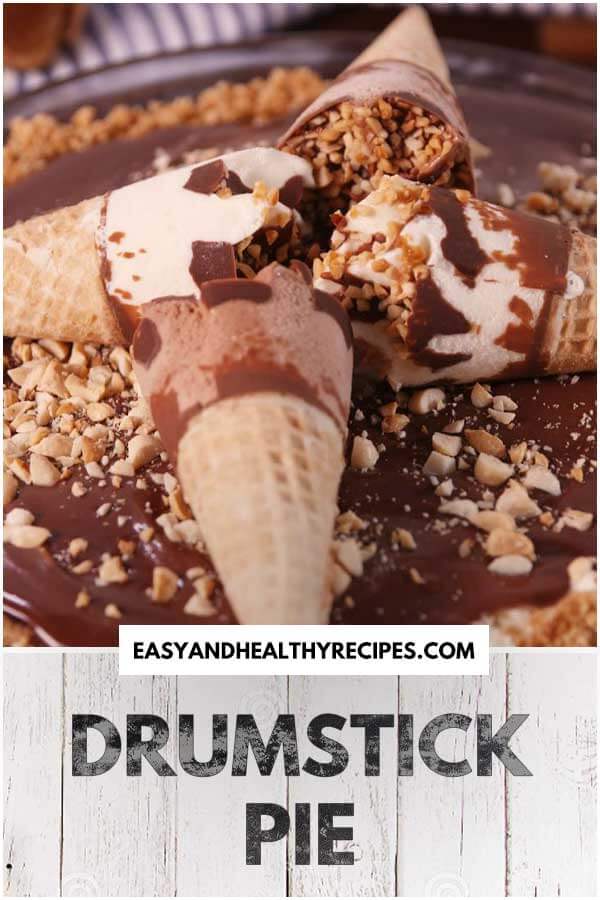 Drumstick Pie
Course: Dessert, Snacks
Cuisine: American
Difficulty: Medium
My kids and I are now big fans of this drumstick pie. The way to make it is given here, just give it a go if you get interested.
Ingredients
5 mini drumsticks

1 c. heavy cream

1 c. chocolate chips

1 gal. vanilla ice cream, softened slightly

2 tbsp. butter

6 sugar cones

6 graham crackers

6 tbsp. melted butter

1 tbsp. granulated sugar

pinch of salt
Directions
To make ganache: Pour chocolate chips in a large glass bowl. In a small saucepan, heat heavy cream until bubbles begin to form around edges.
Pour hot heavy cream over chocolate chips and add butter. Let sit for 5 minutes. Whisk until smooth and set aside.
Add sugar cones and graham crackers to a food processor, pulse until very fine crumbs. Pour in a large bowl and stir in butter, sugar and salt.
Grease a pie dish with cooking spray, then press crust into the dish.
Spread ice cream in any thick even layer. Top with inverted mini Drumsticks, pressing the ice cream topping into vanilla ice cream. Freeze for 30 minutes.
Pour ganache over ice cream and around inverted Drumsticks. Top with sprinkles of chopped peanuts on top. Freeze until solid, about 4 hours.
Serve.
Recipe Video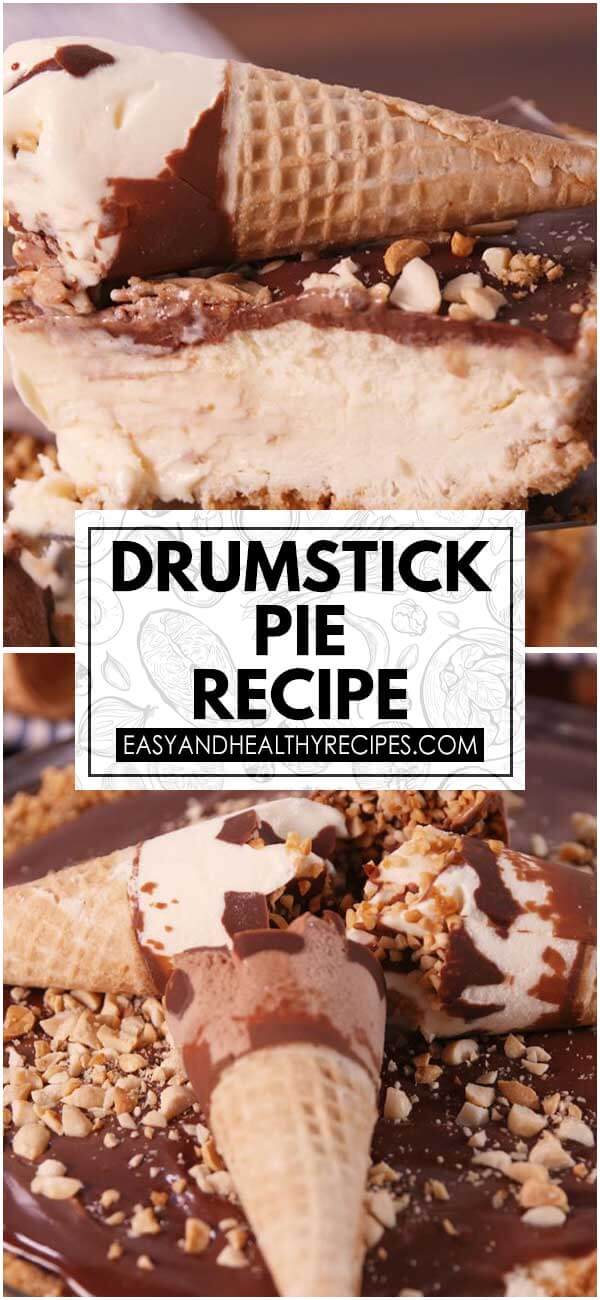 Source: https://www.delish.com/cooking/recipe-ideas/recipes/a54922/drumstick-pie-recipe/