Looking for a sweet and tangy cake that can surprise you when cutting it into slices? This Giant Rolo Cake is right up your street. It's defined by a ganache filling of chocolate chips, heavy cream, and caramel. My kids and I just go crazy for it from the moment we taste it. That's not all because we have a sweet tooth. This rolo cakes taste so good.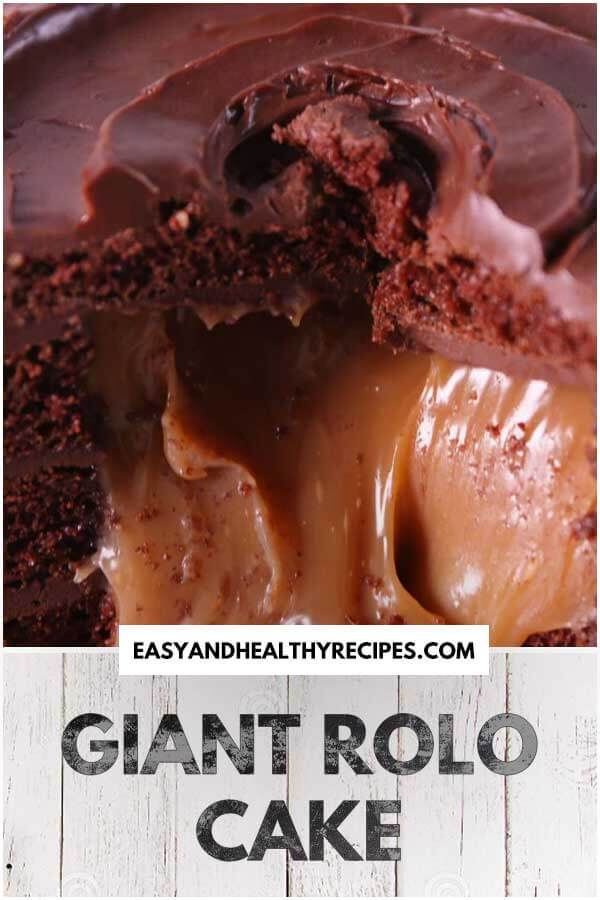 Giant Rolo Cake
Course: Dessert
Cuisine: American
Difficulty: Medium
Dessert time is no longer boring with this giant rolo cake. Although it's quite annoying to make, it's still worth.
Ingredients
1 box devil's food cake mix, plus ingredients called for on the box

1 15-oz. jars of caramel

1 1/2 c. heavy cream

3 c. chocolate chips
Directions
Preheat oven to 350° F. Prepare four 8" cake pans lined with parchment paper and spray with cooking spray.
Prepare cake batter according to package instructions, then divide batter between pans. Bake until an inserted toothpick comes out clean, about 20 minutes. Let cool in pan for 10 minutes in pans then transfer to cooling racks to cool completely.
Cut out the centers from two cakes; using a 4" biscuit cutter. Freeze all cakes for about an hour.
To make ganache: Pour chocolate chips in a medium, heatproof bowl and set aside.
Heat heavy cream in a small saucepan over medium heat. Once bubbles begin to break the surface, turn off the heat. Pour hot cream over chocolate chips, whisking constantly until sauce is smooth.
To assemble: Place first full cake layer on a serving platter, spread a thin layer of ganache on top. Top with a cutout layer, then spread ganache around the hole.
Top with second cutout layer and spread ganache around the hole. Pour caramel into hole, spread ganache around the center, then cover with the second full cake layer.
Carve around edges of the cake to form the shape of a Rolo; using a serrated knife. Cover entire cake with ganache, then pipe ganache around the center of the cake to mimic a Rolo.
Keep in refrigerator for at least 15 minutes to let ganache set. Cut into slices and serve.
Recipe Video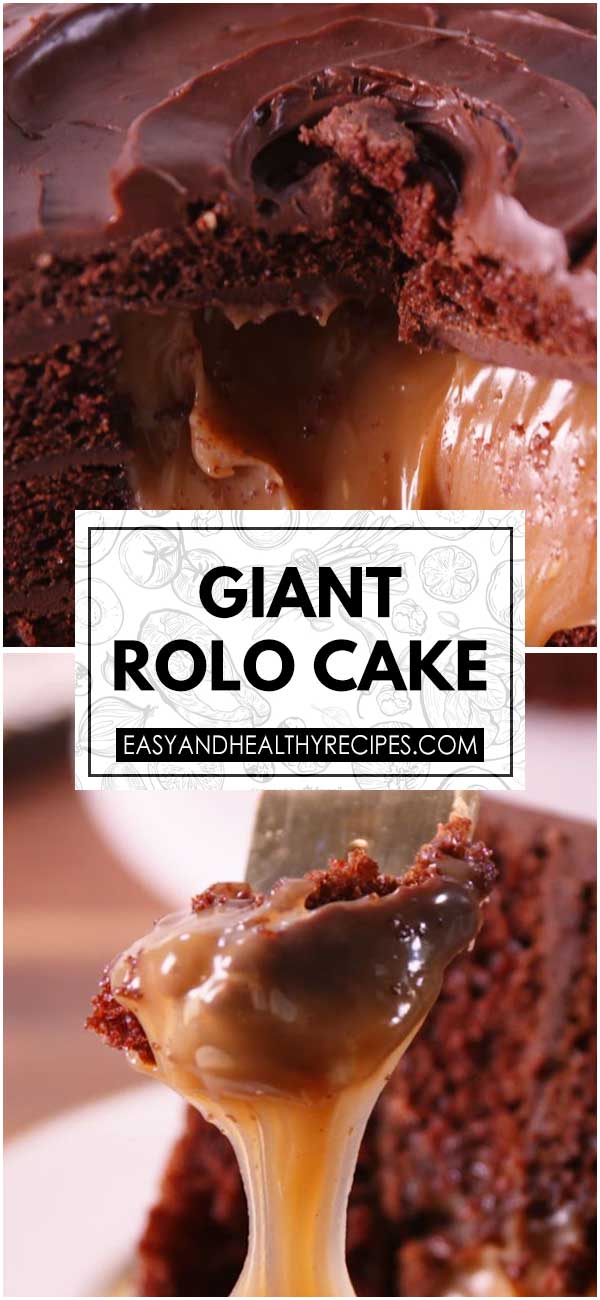 Source: https://www.delish.com/cooking/recipe-ideas/recipes/a54826/giant-rolo-cake-recipe/