This Low-Carb Breakfast Hash is one my favorites to start a day. It's a delicious mix of onion, bell pepper, cauliflower, garlic, chives, eggs, shredded cheddar and crispy fried bacon. Coming out healthy and tasty, it's enough to satisfy your taste buds while boosting up your energy levels for the whole morning. I also love serving it for brunch and lunch when I'm busy at work.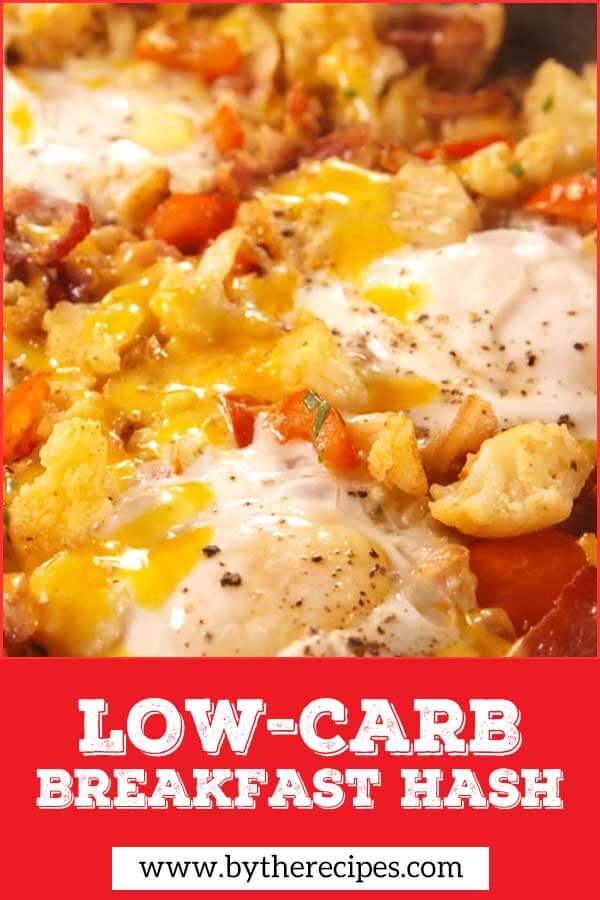 Low-Carb Breakfast Hash
Course: Breakfast
Cuisine: American
Difficulty: Easy
Breakfast is no longer boring with this low-carb breakfast hash. I make it at least once a month and still fall for it. Yummy!
Ingredients
6 slices bacon, cut into 1″ pieces

1 large head of cauliflower, chopped

1 onion, chopped

1 red bell pepper, chopped

4 eggs

1 c. shredded Cheddar cheese

1/4 tsp. smoked paprika

3 tbsp. water

2 cloves garlic, minced

2 tbsp. finely chopped chives

kosher salt

Freshly ground black pepper
Directions
Fry bacon in a large nonstick skillet over medium heat until crispy. Turn off heat and drain on a paper towel-lined plate. Reserve fat in skillet, removing any black pieces from bacon.
Turn heat back to medium and add onion, bell pepper, and cauliflower to the skillet. Cook, stirring occasionally, until vegetables begin to soften and turn golden. Season with salt, pepper, and paprika.
Add 2 tablespoons of water and cover with a lid. Cook until cauliflower is tender and the water has evaporated, about 5 minutes.
Remove lid, then stir in garlic and chives and cook until garlic is fragrant, about 30 seconds.
Using a wooden spoon, make four holes in hash to reveal bottom of skillet. Crack an egg into each hole and season each egg with salt and pepper.
Sprinkle cheese and cooked bacon bits over entire skillet. Bring lid back on and cook until eggs are cooked to your liking, about 5 minutes for a just runny egg.
Serve warm.
Recipe Video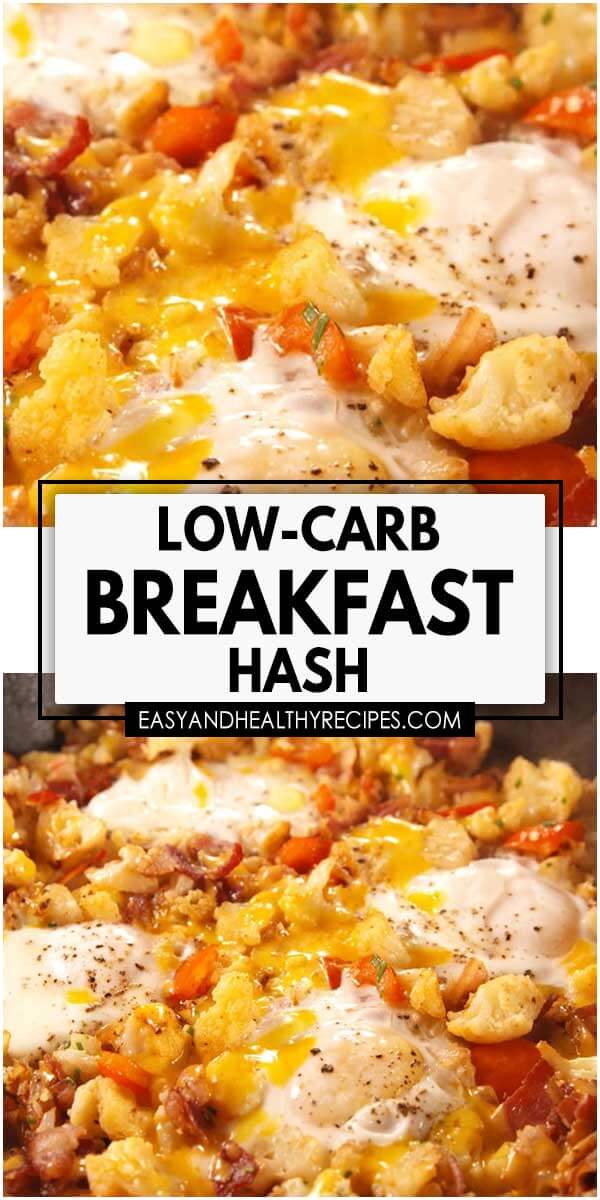 Source: https://www.delish.com/cooking/recipe-ideas/recipes/a55631/low-carb-breakfast-hash-recipe/