Packed with flavors and low in carbs, this Pizza Cauliflower Bake is a perfect food for lunch and dinner. It's made with cauliflower florets (tossed with marinara sauce), mozzarella, Parmesan, olives and pepperoni. My family has become big fans of it since the first time we taste it. We sometimes serve it as a side dish at weekend meals and small gatherings. Yummy!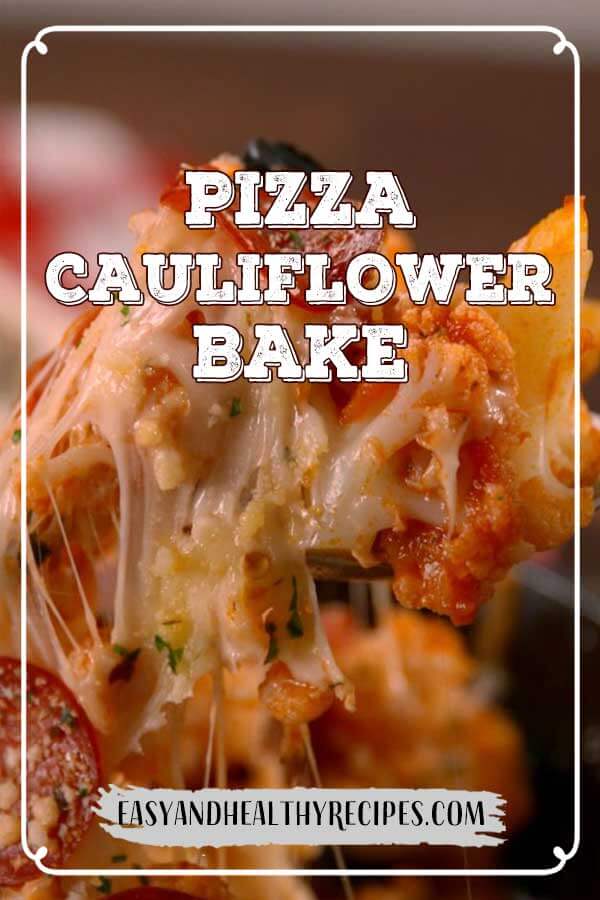 Pizza Cauliflower Bake
Course: Dinner, Lunch
Cuisine: American
Difficulty: Easy
This pizza cauliflower bake is one of my favorite recipes for cauliflower. If you are finding something tasty and tangy to make with it, just give this a try.
Ingredients
2 heads cauliflower, cut into florets

2/3 c. marinara

2 c. shredded mozzarella, divided

2/3 c. freshly grated Parmesan, divided, plus more for garnish

1/2 c. sliced black olives

1/2 c. pepperoni, divided

kosher salt

Freshly ground black pepper

1 tbsp. oregano, divided

2 tsp. crushed red pepper flakes, divided

Fresh parsley, for garnish
Directions
Preheat oven to 350°F. Prepare a baking dish.
Combine cauliflower with marinara in a large bowl, and toss until fully coated. Season with salt and pepper.
Place half cauliflower in baking dish, and top with half of mozzarella, Parmesan, olives and pepperoni. Sprinkle with oregano and pepper flakes.
Cover with rest of cauliflower and repeat topping process.
Bake until cauliflower is tender and cheese is melty and bubbly, 30 minutes.
Let cool slightly, garnish with parsley and Parm and serve.
Recipe Video
Source: https://www.delish.com/cooking/recipe-ideas/recipes/a54633/pizza-cauliflower-bake-recipe/