I love eating something sweet and tangy with a cup of good tea served alongside at weekend. It makes me feel better after long days at work. This Snickerdoodle Cheesecake is one of my favorites. It's a perfect mix of cookie dough, cinnamon sugar, granulated sugar, cream cheese, sour cream, eggs, vanilla extract, ground cinnamon, and vanilla frosting. It's a crazy desserts for small parties.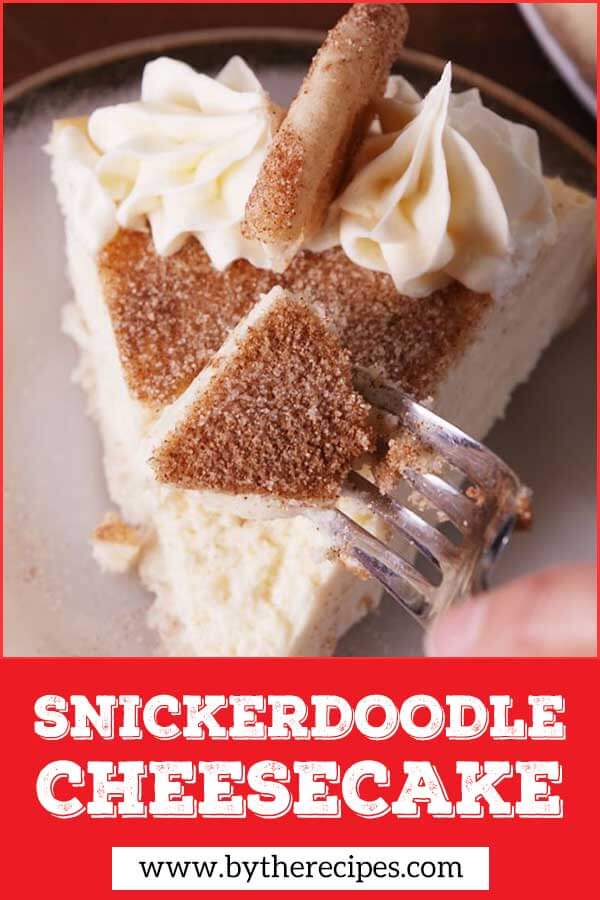 Snickerdoodle Cheesecake
Course: Dessert
Cuisine: American
Difficulty: Medium
If you need something to pamper your sweet tooth, just give this snickerdoodle cheesecake a try. Have fun!
Ingredients
1 log refrigerated sugar cookie dough

3 tbsp. cinnamon sugar, plus more for garnish

3 8-oz. blocks cream cheese, softened

1/4 c. sour cream

3 large eggs

2 tsp. pure vanilla extract

1/4 tsp. ground cinnamon

1 c. granulated sugar

pinch of kosher salt

vanilla frosting
Directions
Preheat oven to 350° F and spray an 8" springform pan with cooking spray.
Add cookie dough and cinnamon sugar to a large bowl, stir until evenly incorporated. Press about half of the dough into bottom of pan. (Reserve extra dough to bake as cookies.)
Pour cream cheese in another large bowl, and beat until smooth. Beat in sugar and sour cream and until light and fluffy.
Working by one, add eggs, beating well between each addition. Stir in vanilla, cinnamon and salt. Pour batter over the cookie dough crust.
Bake until slightly jiggly in the center, about 1 hour. Turn off oven and open the door slightly to let cheesecake cool for about 1 hour. Then refrigerate until completely cool, at least 4 hours and up to overnight.
Roll remaining dough into small balls (about a tablespoon) then flatten slightly.
Transfer to baking sheet and bake until starting to turn golden around the edges, about 10 minutes. Transfer to a cooling rack to cool completely.
Sprinkle top of the cheesecake with more cinnamon sugar. Pipe frosting around the edges of the cheesecake, garnish with snickerdoodle cookies.
Serve immediately!
Recipe Video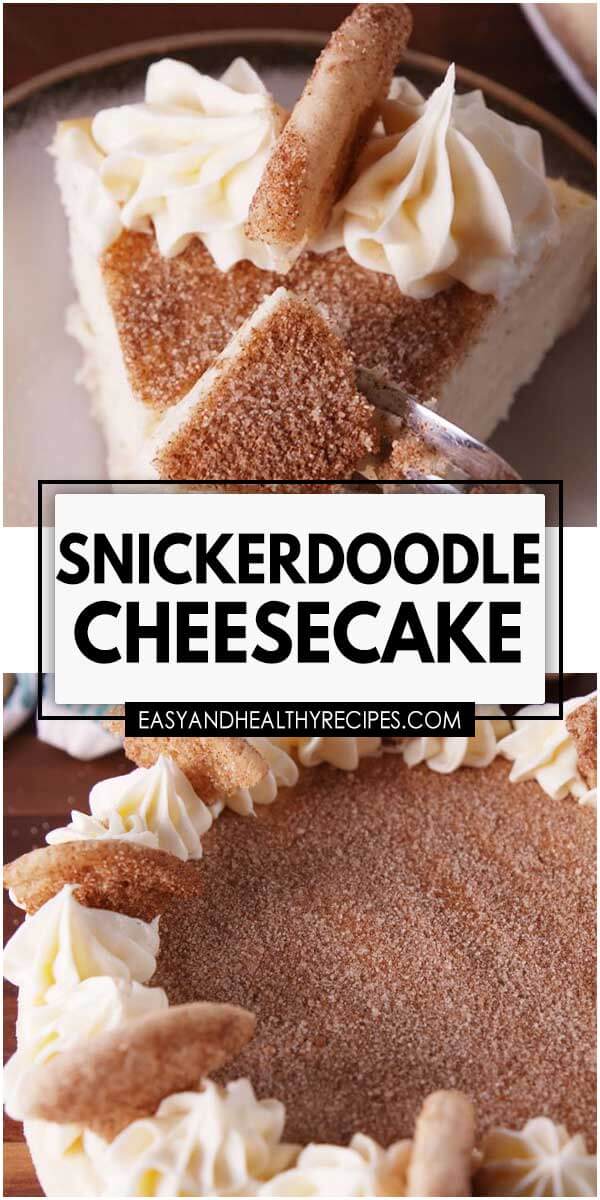 Source: https://www.delish.com/cooking/recipe-ideas/recipes/a54880/snickerdoodle-cheesecake-recipe/