Cheesecake Stuffed Cookies
Cheesecake filling makes everything. It makes the dessert (or snack) tastier and more flavorful. These Cheesecake Stuffed Cookies are a good example. Paired with chocolate chips that are folded in the cookie dough, these cookies get both kids and adults hooked. I'm hosting a game day viewing party this weekend, and adding them to the menu. As my kids get so much fun with them, hope that they keep my guests satisfied.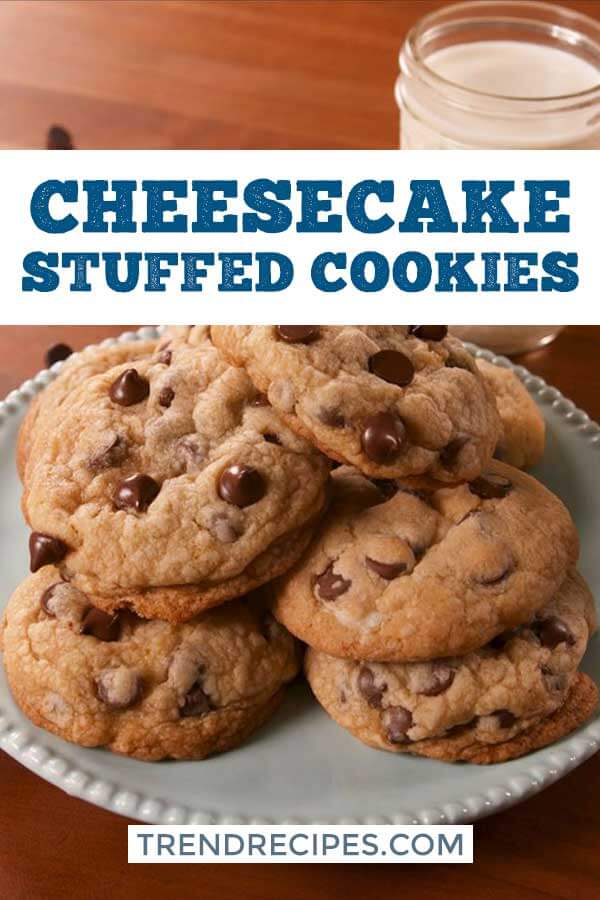 Cheesecake Stuffed Cookies
Course: Dessert, Snacks
Cuisine: American
Difficulty: Easy
These cheesecake stuffed cookies are great to make at any time. The point here is just to get the recipe on hand, and give it a go.
Ingredients
FOR COOKIES

1 1/4 c. (2 1/2 sticks) butter, softened

2 c. semisweet chocolate chips

2 3/4 c. all-purpose flour

1 c. packed brown sugar

1/2 c. granulated sugar

2 tsp. pure vanilla extract

2 large eggs

1 tsp. baking soda

3/4 tsp. kosher salt

FOR CREAM CHEESE FILLING

12 oz. cream cheese, softened

1/2 c. powdered sugar

Pinch kosher salt
Directions
Preheat oven to 375ºF and prepare a large baking sheet lined with parchment paper.
To make cheesecake filling: Add cream cheese, powdered sugar, and salt to a small bowl. Mix well until smooth. Cover with plastic wrap and place in refrigerator until slightly firm, at least 30 minutes.
To make cookie dough: Using an electric mixer, beat butter and sugars until light and fluffy, about 2 minutes. Slowly beat in vanilla extract and eggs.
Gather mix flour, baking soda, and salt in a separate bowl. Stir into butter-sugar mixture. Fold in chocolate chips. Place dough in refrigerator to firm up, 30 to 35 minutes.
To make cookies: Scoop about a tablespoon of cookie dough and flatten into a pancake-like circle. Spoon about 2 teaspoons cheesecake filling in the center.
Form another tablespoon of cookie dough into a flat circle and place on top of filling. Pinch edges together to seal, then roll filled dough into a ball.
Bake for 12 to 15 minutes, or until lightly golden. Let cool completely and serve.
Recipe Video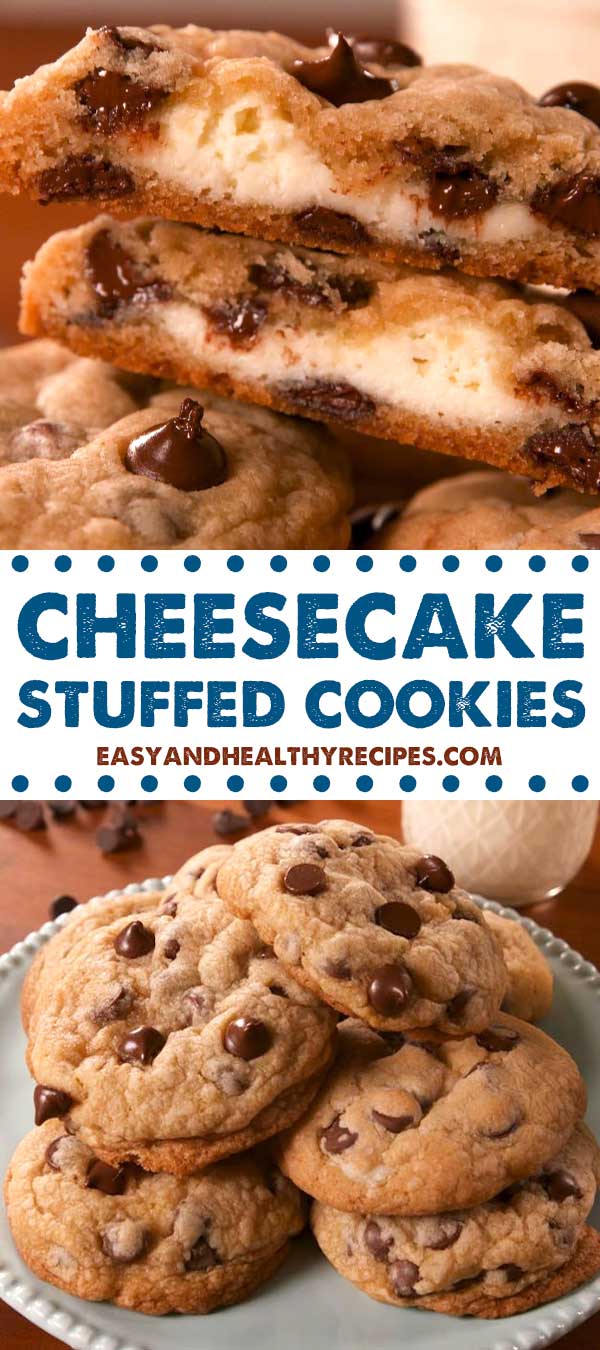 Source: https://www.delish.com/cooking/recipe-ideas/recipes/a58686/cheesecake-stuffed-cookies-recipe/