Packed with flavors and texture, this Beef Taco Salad is star of the show when it's served. When my family tasted it for the first time, we fell for it right away. We love it for Friday's dinner and small parties, weekend gathering, for instance. Amazingly, this taco salad is also low in carbs, so feel free to add it to your diet if you are on keto. Ready to give it a go?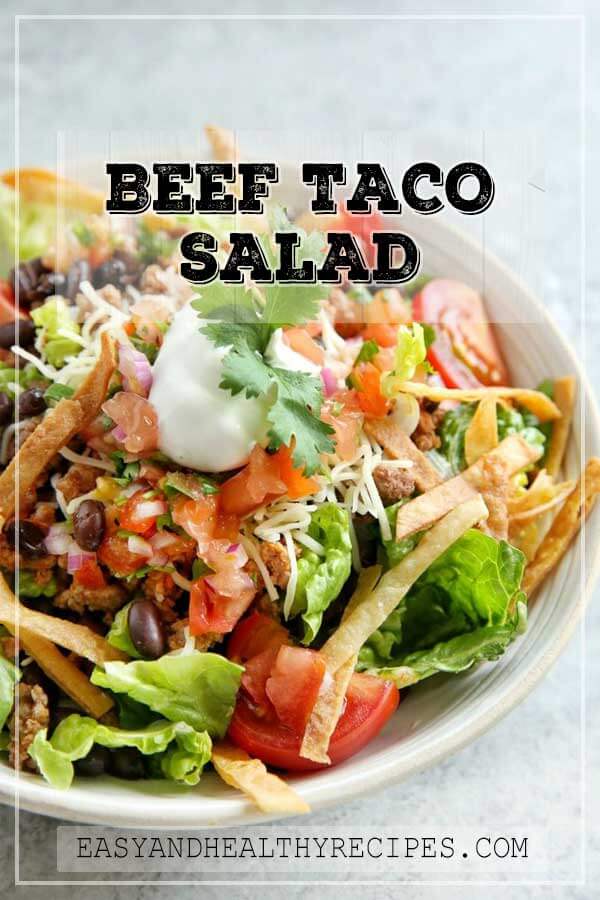 Beef Taco Salad
Course: Dinner
Cuisine: American
Difficulty: Easy
This Beef Taco Salad is great to make at any time, for both daily meals and specially occasions. Weekend's coming, why don't you serve it for dinner?
Ingredients
1 lb. ground beef

2 tbsp. Taco Seasoning

2 corn tortillas, cut into 1/4″ strips

2 heads romaine lettuce, chopped

1 pt. cherry tomatoes, halved

1 can black beans, drained and rinsed

1 c. shredded cheddar

1 c. Pico de Gallo

sour cream

kosher salt

Freshly ground black pepper

2 tbsp. tomato paste

vegetable oil

1/4 c. fresh chopped cilantro
Directions
Brown ground beef in a cast-iron skillet over medium-high heat, breaking up meat into small pieces; using a wooden spoon. Season with salt and pepper.
Stir in taco seasoning, 2 tablespoons water, and tomato paste. Cook for about 5 minutes. Turn off heat and set aside.
Heat 1/2″ of vegetable oil in a saute pan. Add tortilla strips and fry until golden brown. Transfer to a plate lined with paper towels and season with salt.
To assemble, divide layers of romaine, tomatoes, black beans, and warm taco meat in serving bowls.
Top with cheese, pico de gallo, and sour cream, then garnish with cilantro and crisp tortilla strips.
Serve.
Recipe Video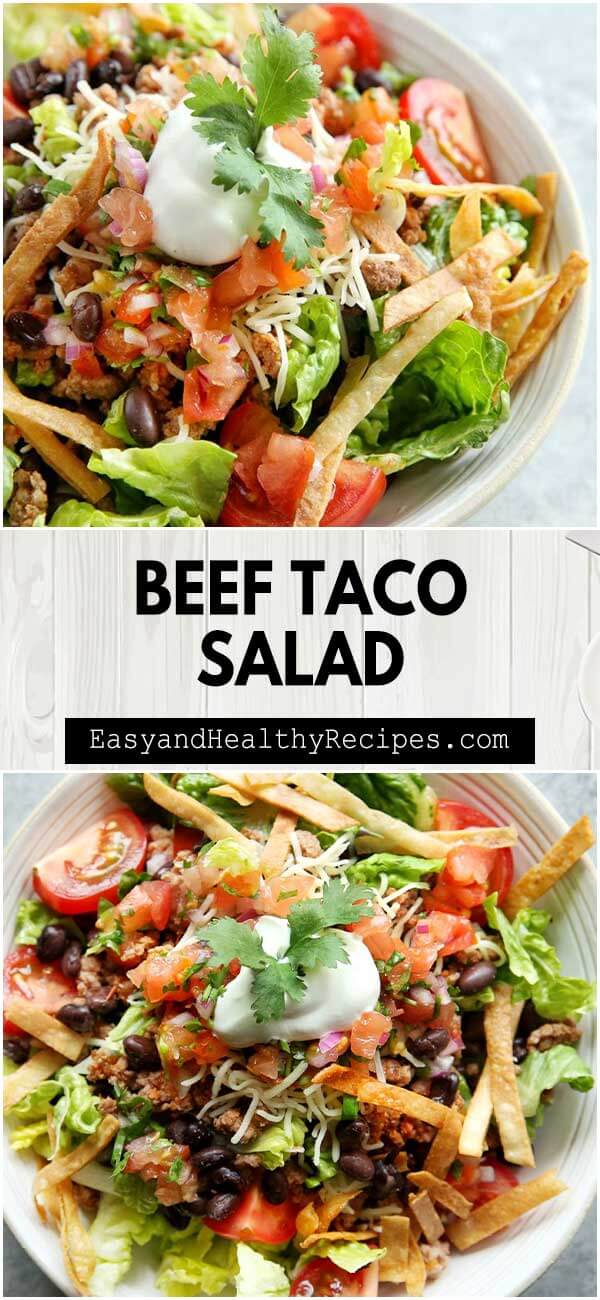 Source: https://www.delish.com/cooking/recipe-ideas/recipes/a48351/beef-taco-salad-recipe/