Loaded with flavors, this Creamy Steak Fettuccine is enough for a good dinner. Steak is seared to medium rare, let cool, thinly sliced, then topped over creamy Alfredo pasta. This pasta only costs you 30 minutes, from start to finish, so you can serve it for boring week day dinners. When I'm not in mood for cooking at weekend, I still make these for my family. Yummy!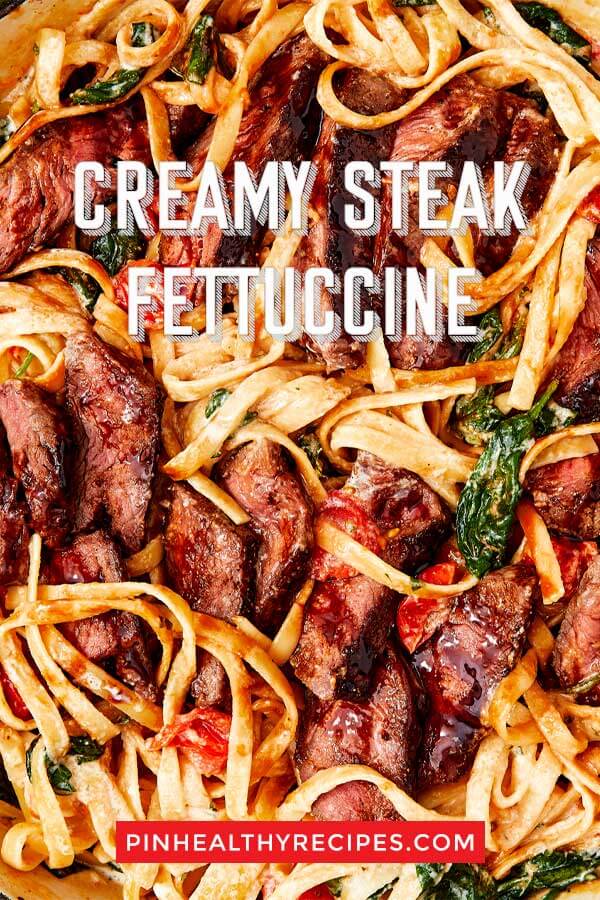 Creamy Steak Fettuccine
Course: Dinner
Cuisine: American
Difficulty: Easy
If you want steak and pasta to combine together, just give this creamy steak fettuccine a try. Hope it fit your taste!
Ingredients
12 oz. fettuccine

1 lb. sirloin steak

2 tbsp. all-purpose flour

2 c. milk

1 tbsp. freshly chopped parsley

1/2 c. freshly grated Parmesan

1 1/2 c. halved cherry tomatoes

4 c. baby spinach

2 tbsp. extra-virgin olive oil

Kosher salt

Freshly ground black pepper

2 tbsp. butter

2 cloves, minced

Balsamic glaze, for drizzling
Directions
Prepare pasta according to package directions until al dente. Drain and set aside.
Coat both sides of steak with oil and season generously with salt and pepper.
Place in a large skillet over medium-high heat, cook until your desired doneness, 4 minutes per side for medium rare. Transfer to a plate to let rest, 10 minutes, then thinly slice.
To make alfredo sauce: Add butter to skillet and let melt, then add garlic and cook until fragrant, 1 minute. Whisk in flour and cook 1 minute more, then add milk and simmer until thickened, 5 minutes.
Stir in parsley and Parmesan and season with salt and pepper. Add tomatoes and cook down 2 minutes.
Add cooked pasta to sauce and toss until coated, then add spinach and toss until wilted.
Top with steak and drizzle with balsamic glaze. Serve immediately.
Recipe Video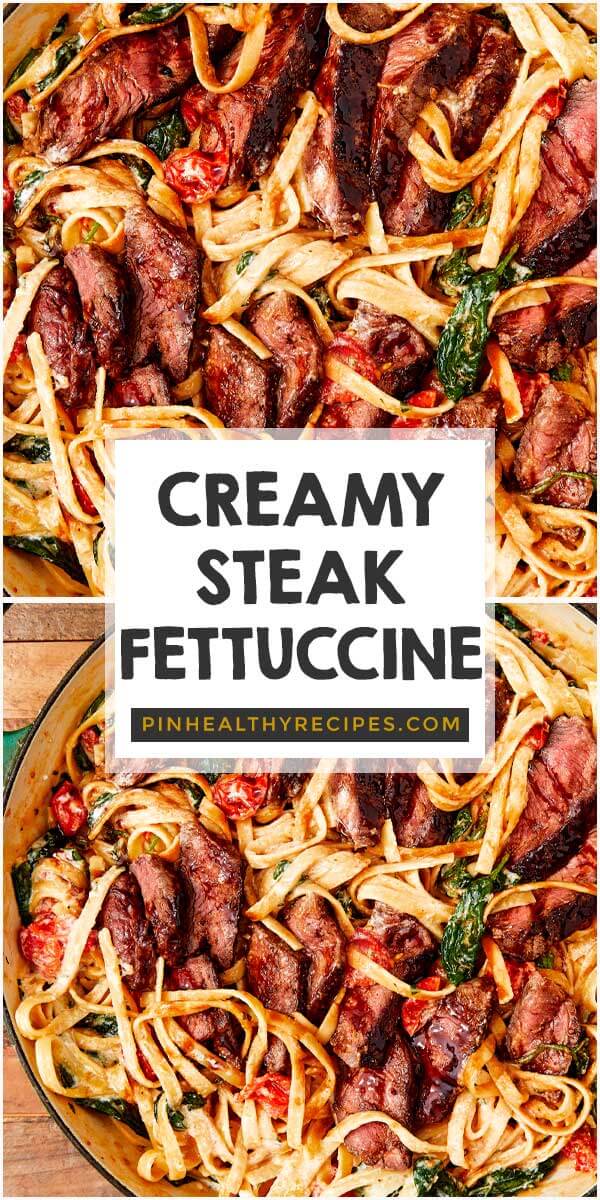 Source: https://www.delish.com/cooking/recipe-ideas/a19867560/creamy-steak-fettuccine-recipe/