These Caramel Stuffed Cookies are now one of my favorites. Coming out sweet and tangy, they're a perfect snack for all. When I treated the kids with these cookies at game day viewing party, these got the kids hooked. They're also easy to make and quite fun to eat, so you can let the kids involve in the preparation if they get interested. Have fun!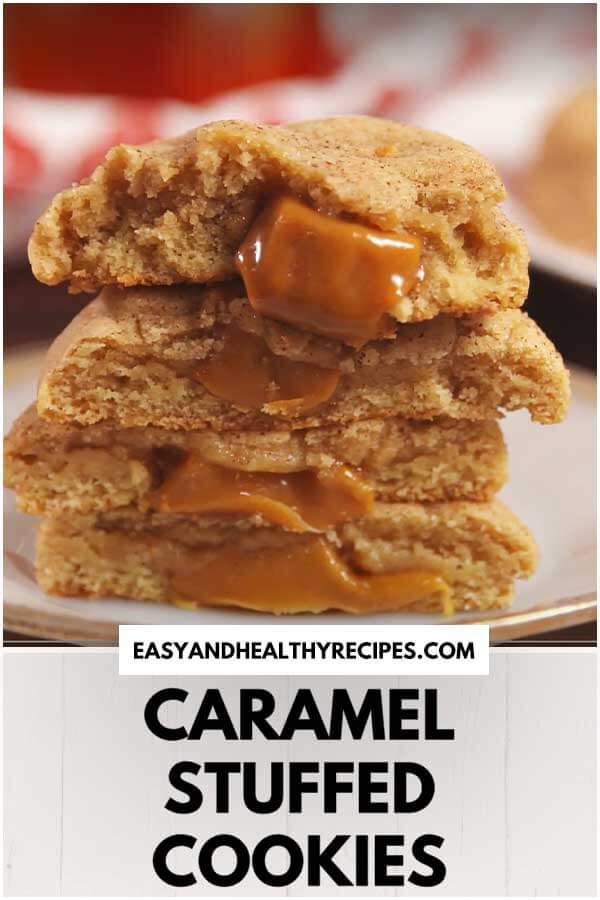 Caramel Stuffed Cookies
Course: Snacks, Dessert
Cuisine: American
Difficulty: Easy
If you fall in love with taste and flavor of caramel, just give these caramel stuffed cookies a go. Enjoy!
Ingredients
1 bag caramel candies, unwrapped

1 1/2 c. flour

1/2 tsp. cinnamon

1/2 tsp. baking soda

1/4 tsp. baking powder

3/4 c. apple cider

1 egg

Pinch salt

1/2 c. butter, softened

2/3 c. packed brown sugar

1 tsp. vanilla

Cinnamon sugar, for rolling
Directions
Preheat oven to 350°F and prepare two baking sheets lined with parchment paper.
Pour apple cider in a small saucepan over medium-high heat. Bring to a simmer and cook until reduced to about 2 tablespoons. Let cool.
Add flour, cinnamon, baking soda, baking powder and salt to a medium bowl, whisk to combine.
In a large bowl using a hand mixer, beat together butter and brown sugar. Add egg, vanilla and reduced apple cider and beat until combined. Add flour and mix until just combined.
Divide cookie dough into balls, about 2 tablespoons/ each, flatten slightly with your hand. Press unwrapped caramel into center of dough, covering and sealing the caramel entirely with dough.
Reshape them into a ball and roll in cinnamon-sugar. Transfer to a cookie sheet and repeat with remaining dough and caramels. Freeze for 20 minutes.
Bake until cookies are golden around edges and set in the middle, 10-14 minutes.
Let cool for on pan for 5 to 10 minutes, transfer to a wire rack to cool completely.
Recipe Video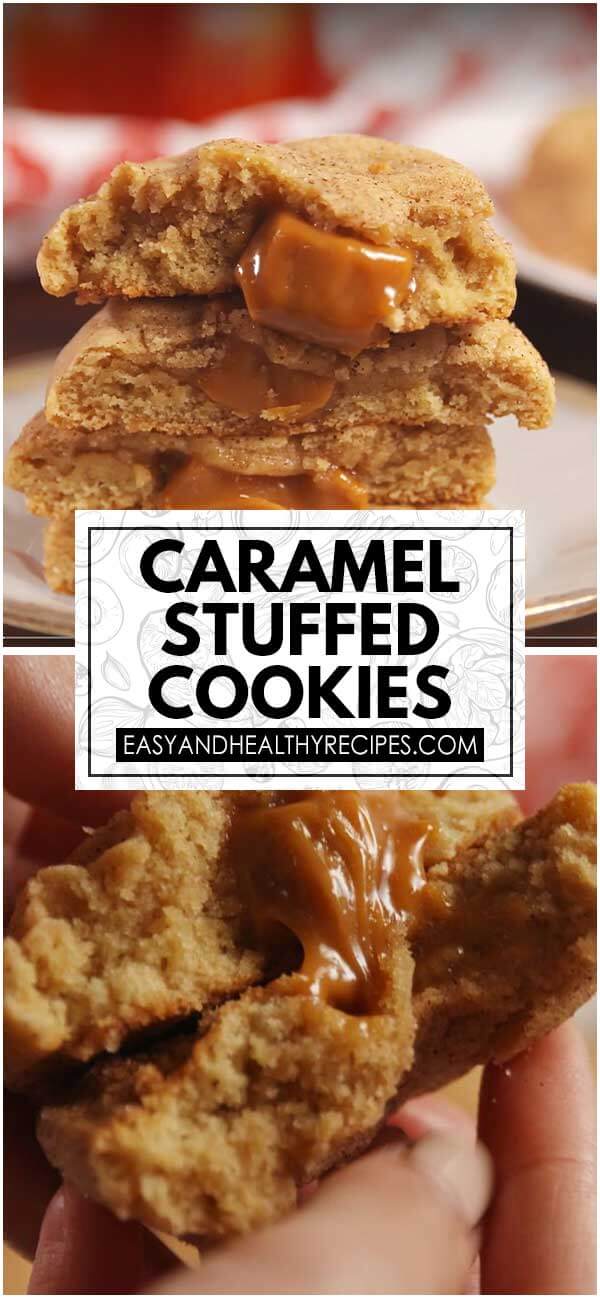 Source: https://www.delish.com/cooking/recipe-ideas/recipes/a56092/caramel-stuffed-cookies-recipe/