Hot Dog Stuffed Cornbread
Hot Dig Stuffed Cornbread is here. It's one of the cutest ways to eat hot dogs. The way to make it is quite simple, too. Prepare cornbread batter, place hot dogs flat on it, top with more batter, and bake until golden and cooked to your liking. If you are big fans of "pigs in the blanket", you should never miss this hot dog corn bread. It certainly keeps you amazed.
Hot Dog Stuffed Cornbread
Course: Breakfast, Brunch, Lunch
Cuisine: American
Difficulty: Easy
My family just fall for this hot dog stuffed cornbread. If you also get interested in this recipe, feel free to give it a go.
Ingredients
2 boxes Jiffy corn muffin mix

5 hot dogs

2 large eggs

1 c. sour cream

1/2 c. shredded Cheddar

4 tbsp. melted butter

kosher salt

Freshly ground black pepper
Directions
Preheat oven to 400° F. Prepare an 8"-x-8" square pan with parchment and grease with nonstick cooking spray.
Combine all ingredients in a large bowl. Stir to combine and pour half mixture into baking pan.
Place all hot dogs flat on batter, and then top with more batter.
Bake until golden and an inserted toothpick comes out clean, about 20 minutes.
Remove and let cool slightly, then slice and serve.
Recipe Video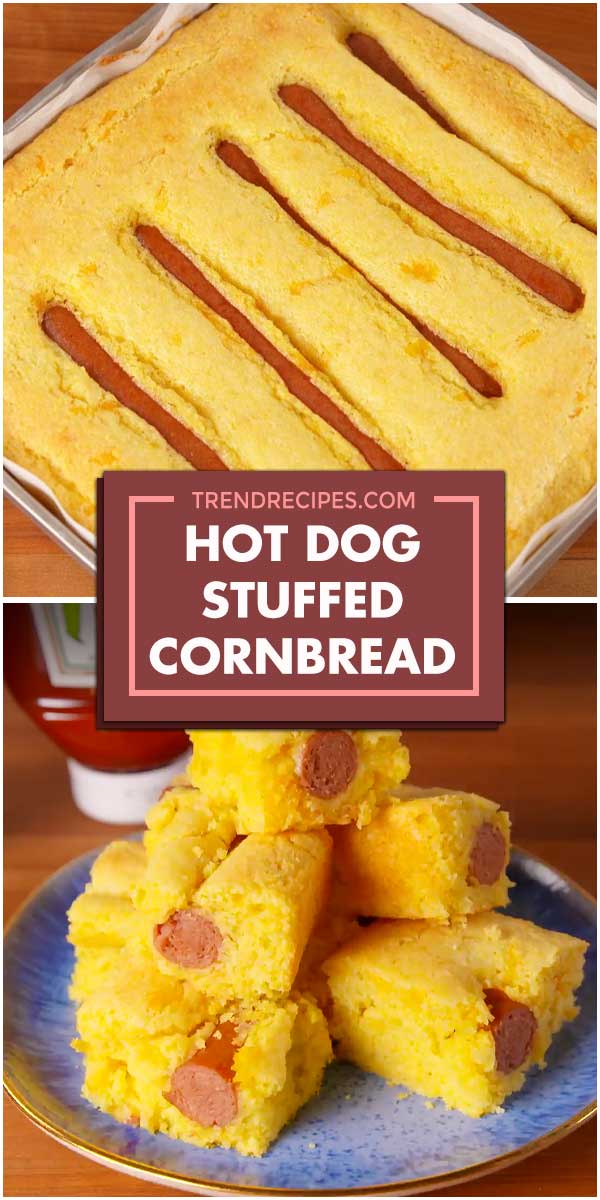 Source: https://www.delish.com/cooking/recipe-ideas/recipes/a54239/hot-dog-stuffed-cornbread-recipe/