Spinach Artichoke Stuffed Pretzels
If you prefer savory pretzels to sweet ones, just give these Spinach Artichoke Stuffed Pretzels a go. Packed with flavors, these pretzels are an appealing food for breakfast, and brunch. I also love feeding my hungry stomach at snack time with these. Their recipe is given here, add it to recipe box and make it whenever you like. Enjoy!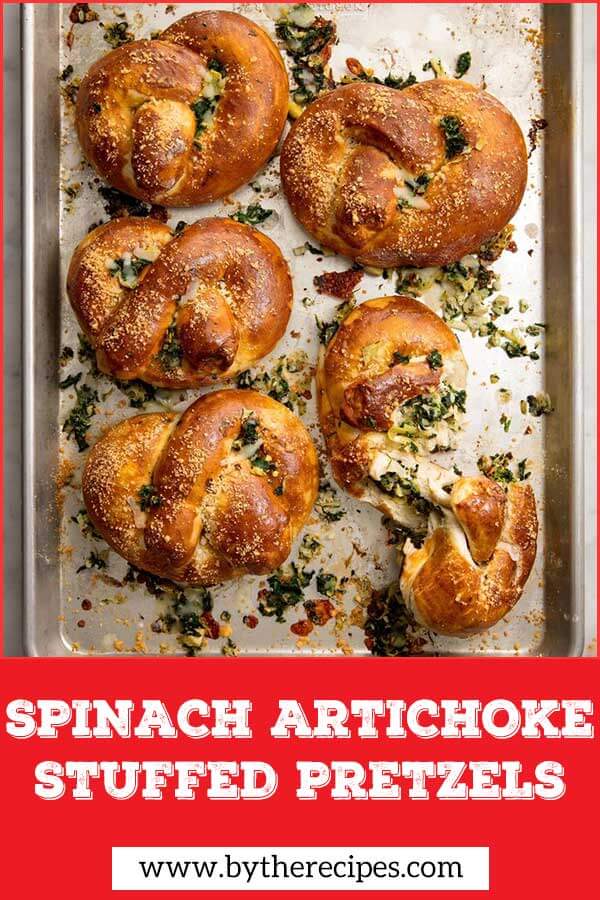 Spinach Artichoke Stuffed Pretzels
Course: Breakfast, Brunch, Lunch
Cuisine: American
Difficulty: Easy
Those who love the perfect combination of spinach and artichoke, should never miss these stuffed pretzels for meals.
Ingredients
1 c. chopped artichoke hearts

1 c. frozen spinach, defrosted and drained

3 tubes refrigerated French bread dough

6 oz. cream cheese, softened to room temperature

1/3 c. sour cream

2 garlic cloves, minced

2/3 c. shredded mozzarella

1/4 c. freshly grated Parmesan

kosher salt

pinch of crushed red pepper flakes

2 tbsp. baking soda

1 1/2 c. warm water

1 tbsp. chopped parsley

Coarse salt
Directions
Preheat oven to 400°F and prepare a large baking sheet lined with parchment paper.
Add cream cheese with sour cream, artichoke hearts, frozen spinach, garlic, mozzarella and Parmesan to a large bowl, stir to combine. Season with salt and crushed red pepper flakes.
Divide each dough into 6 pieces to make 18 pieces total. Stretch and roll each piece into a long rectangle.
Spoon about 2 tablespoons of spinach artichoke mixture into center of dough. Roll tightly into a tight rope, making sure no cheese is exposed. Twist and shape rolls into a pretzel shape and transfer to prepared pan.
Add baking soda to a shallow bowl filled with warm water. Whisk until dissolved. Brush each pretzel with baking soda solution.
Let set until pretzels have dried, about 10 minutes, then brush with melted butter. Sprinkle with parsley and coarse salt.
Bake 18 to 20 minutes, until pretzels are golden. Serve.
Recipe Video
Source: https://www.delish.com/cooking/recipe-ideas/recipes/a56209/spinach-artichoke-stuffed-pretzels-recipe/